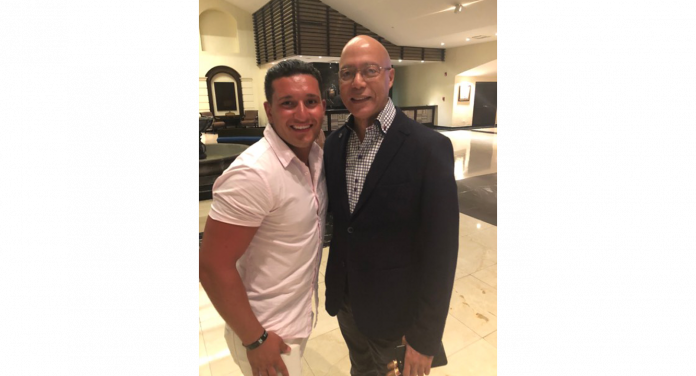 Joes Sasso is the son of Dede and Rick Grosser from Rochester, New York. The family has been coming for many years to Aruba as they fell in love with this island. Little Joey was playing on the beach back then and grew up to the man he is now. A man that is famous because Joey is one of the contestants in the "The Circle", Netflix' newest reality based show.
His father informs us that we can see Joey in the finals of the show on January 15. "The show is making its USA debut. New York Times, Netflix, Oprah Magazine and others have been promoting the show. "Big Brother" meets "Catfish" on this reality series on which not everything is as it seems. Comic Michelle Buteau hosts the show that features its contestants moving into the same apartment building. The twist is that the players never meet face-to-face during the competition, as each one lives in his or her own apartment. The contestants communicate exclusively through profiles created on a specially designed social media app. This anonymity allows them to hide their true identities and portray themselves however they choose. Joey lives in Hollywood California, Pursuing his Acting Career
"Hopefully Joey makes Aruba proud, he has many, many friends on the island, his second home."
They're getting many Aruba's residents excited seeing one of their own appearing on Netflix.
"Dede and I will have to watch the finales January 15 in Aruba, we'll be at Barcelo." In the pictures we can see Joey with Sandra Steba when he received his Goodwill Ambassador Award and also with the GM Samuel Johnson. The last picture is with longtime friend Ketty Lispier. Barcelo and the staff have known Joey since he was 3 years old.
Dede and Rick fell in love with Aruba on their first visit to the island in 1991. For the last 28 years, they have been staying at what is now Barcelo Aruba, the resort has changed brands and names during the years but they stayed loyal to the resort. For the past 15 years they've spent their vacations here four times a year. They bring their family, about 50 people, in June every year. We can – without a doubt – call them VIP Ambassadors of Aruba. They are of course very proud of Joey's accomplishments. "He has the mindset of never giving up."q