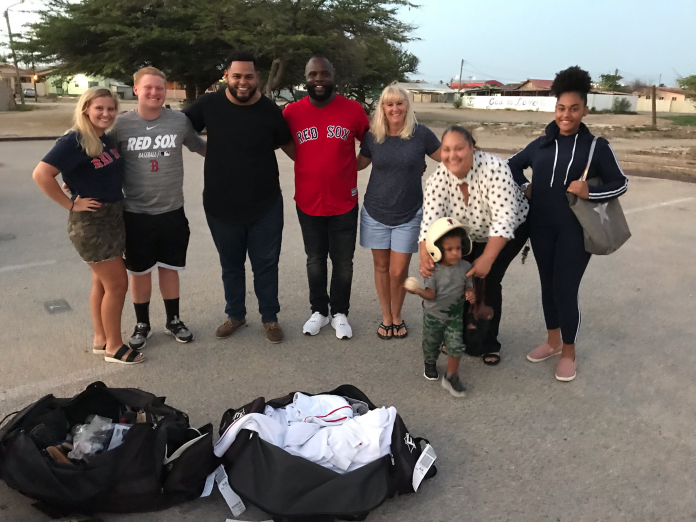 Jake Brown loves baseball and to him Aruba is his second home. For the second year Jake has made a special donation to the Xander Bogaerts Dare to Dream Foundation, all this with the purpose to share his love for the game and support local community.
Jenny Brown and her two children Sarah and Jake are from Groton, Massachusetts and have been coming to the island for 15 years consecutively. They have made many friends throughout the years and they manage to stay in touch with them year round. The family loves everything about the island. The weather, the beaches, the many activities like sailing on their friend Tico's catamaran named 'Isabella'. The family does not only come to the island to vacation but they always try to give back to the island in any way they can. For the past two years a special donation has been made to a foundation close to their heart.
Jake (16), the youngest one of the family, is a baseball fanatic. He loves baseball so much and wanted to share this with the young baseball teams here. Back home he collected baseball equipment from his baseball facility, the Tewksbary Hitting and Wasserman Strength in Nashua, New Hampshire and his high school, Groton/Dunstable Regional High School in Massachusetts. He collected pants and uniform shirts, gloves, catcher's equipment, equipment bags, helmets and batting gloves. He brought all this equipment with him and donated it to the Xander Bogaerts Dare to Dream Foundation, which helps the children on Aruba through baseball.
For Jake and his family it's such a heartwarming experience to see the appreciative children receiving the equipment. For them this has been the highlight of their vacation for the past two years. They also became close friends with the volunteers of the foundation. For this lovely family Aruba is simply their second home and friends have become more like family!q