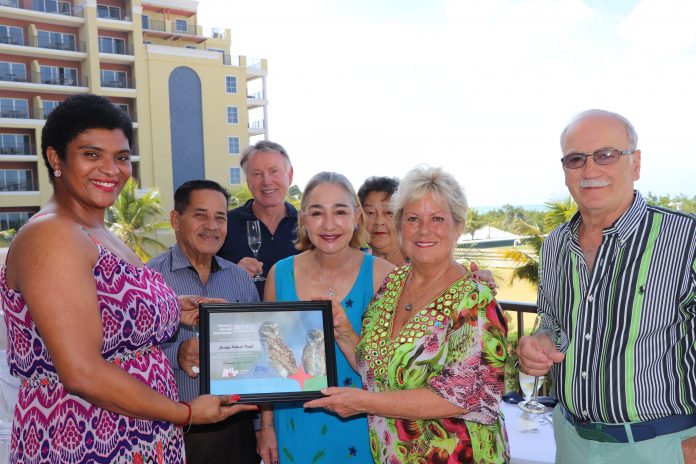 Aruba has many longtime visitors dedicated to returning to the island time after time, but few are more devoted and engaged than Carolyn Pollack-Kruel, of Pennsylvania, celebrating forty years of vacationing here, usually during the holiday season.
Not only has Carolyn been returning frequently each year over the decades, usually accompanied by her mother† and cousin†, but she has shared some of the happiest occasions of her life with her "extended Aruban family." Each year, while they were alive, Carolyn hosted extravagant birthday parties for her mother and cousin, with all their growing entourage of dear Aruban friends attending.
While they vacationed here in 2005, Carolyn and her husband George picked out her engagement ring at Shiva's, having established a close friendship with the Alwani family. George officially slipped the ring on her finger during a delightful dinner shared with Shea Lichtenstein† and his wife, Joyce, another island couple with which they shared a long, active friendship.
Naturally, after being officially married in Pennsylvania, Carolyn and George had to have all their Aruban friends present to share a stunning spiritual ceremony here at the Santa Ana church in Noord. It is very unusual for the Catholic churches of Aruba to marry non-resident couples, but Father Rene, who had grown very close to the newlyweds over the years, was pleased to join them in matrimony.
These landmark moments demonstrate Carolyn and George's deep commitment to the local community and its people; they are very active and generous in the church and other traditional island activities. They have even danced down the streets of Oranjestad befeathered and sequined during the annual Carnival parades!
This year, Carolyn is celebrating 40 years of returning to Aruba since she first fell in love with the island in 1979. The presentation of an Emerald Certificate and coin was conducted during a festive New Year's Eve dinner at the Ritz Carlton's Casa Nonna restaurant. Marouska Heyliger of the Aruba Tourism Authority, had the pleasure to honor Carolyn, who has gone above and beyond being an Ambassador of Goodwill. Representatives of the Ritz-Carlton Aruba, especially Milouska "Miko" Briezen, were also present at this memorable event.
The occasion has evoked another memorable event, a reunion with Nancy Baty, who first convinced Carolyn to vacation on Aruba in 1979, when they both worked for TWA. "I had never even heard of Aruba when Nancy approached me with an incredible deal being offered to airline employees," she recalls. "We were able to stay at the Tamarijn Beach Hotel for only $15 a night, which we split! Imagine!
As both Carolyn and Nancy were quite fetching young ladies who were touted in the local papers as "Beauties on the Beach," they found themselves not lacking for dinner invitations from some nice young men from Canada, so were able to truly sample some of the fine restaurants that have built Aruba's reputation.
The girls returned once a year for the next five years, until they were laid off from TWA along with several other employees. Nancy took a job with Piedmont Airlines and moved away to Virginia Beach, and Carolyn went on to start her own very successful travel agency, Ambassatour. As an agent, her top recommendation to her clients seeking a Caribbean holiday has always been Aruba, and very likely contributed substantially to growing Aruba's visitors from the Pittsburgh area.
This year's honoring is particularly poignant for both Carolyn and Nancy, as the latter is returning to Aruba for the first time in 37 years, to share this special event with her good friend. Nancy and her husband Mark Baty could not resist joining Carolyn for this 40th year anniversary trip. They arrived on December 30, Nancy's birthday, and Carolyn treated them to a fabulous dinner with a view at La Trattoria El Faro Blanco, which did not even exist during Nancy's last visit.
Nancy was excited and thrilled to see how the island has grown. She stayed with Carolyn and enjoyed a whirlwind tour of all the new hotspots that one can fit into three days.
"I knew that the trip to Aruba would be worth the time and expense," expressed Nancy, who has visited Carolyn over the years whenever she returned to Pittsburgh to see family. "We had not known each other well when I first proposed we vacation together on Aruba, but we have since traveled to many places over the years, including an African Safari. I was certain Mark and I would enjoy our time here and meeting the many friends Carolyn has made here over the years; with Carolyn, especially on Aruba, Life is a Celebration!"