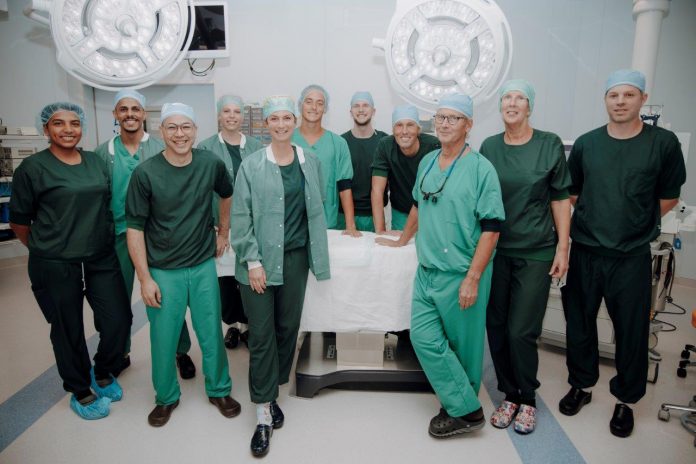 ORANJESTAD – The Minister of Tourism and Public Health Dangui Oduber, is pleased to announce the first liver tumor removal surgery in Aruba using the Stryker Sonopet.
This historic surgery was possible thanks to the collaboration of the Horacio Oduber Hospital with the Universitair Medisch Centrum in Utrecht (UMC Utrecht). The Sonopet is used in the specialized field of neurosurgery but also for liver surgery.
Surgeon Jan Ringers, who has been working for ten months at the Hospital in Aruba, has lots of experience with this tool in the Netherlands. When the situation presented with a patient who was pending going abroad to remove a liver tumor, the surgeon took the challenge to perform this operation in Aruba since the Sonopet was available at the HOH. Jointly with the Surgery Room, Dr. Ringers performed the surgery successfully. It was the first surgery of its kind in the Dutch Caribbean.
The entire team of the HOH is very proud as it was for the first time a patient with this medical issue did not have to be sent abroad for this procedure. With the cooperation between the HOH and the UMC Utrecht, the HOH acquired the Sonopet for neurosurgery. Originally the Sonopet is used in brain surgery, but general surgeons can also use it. It entails a considerable advancement in quality health care in Aruba. Patients with similar health issues should no longer be sent abroad for care. They can be treated in Aruba and can recover with the care of their loved ones.
The Sonopet makes a considerable difference in a variety of surgeries. The cooperation with the UMC Utrecht is giving outstanding results with surgeries performed in Aruba. This essential step considerably contributes to medical care in Aruba and offers new opportunities for procedures beneficial to the patients.