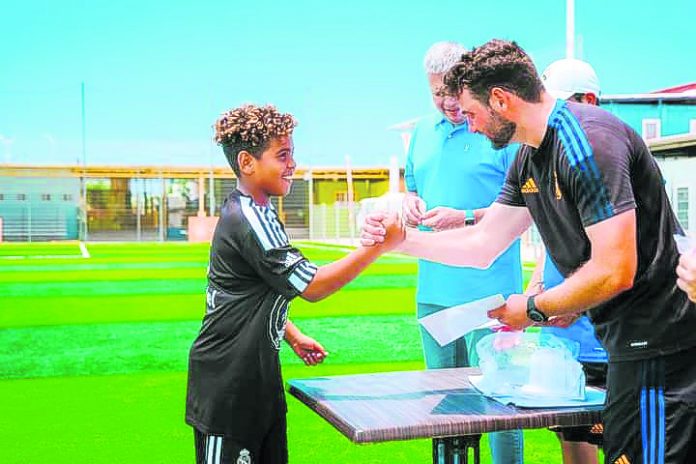 (Oranjestad)—Fabio Alexander Montilla is an 11-year-old boy with a love for soccer. He currently plays for the local club RCA and Team Dreyer, with whom he recently to Colombia with to play in the Future Soccer Cup Tournament (FSC). In March, Fabio Alexander had the once in a lifetime opportunity to play in Madrid, Spain, in the Real Madrid Foundation World Challenge Tournament 2023.
Last year, Alexander was a part of the Real Madrid Foundation Clinic that took place in Aruba. Through this, coupled with his talent, dedication, discipline and love for soccer, Alexander received an invitation to travel to Madrid and realize the dream that a lot of kids, adults and soccer fanatics have: playing soccer in Madrid for the foundation of one of the biggest soccer club in the world, Real Madrid.
"I'm very happy that I received an invitation. It's going to be a once in a lifetime experience that I will never forget. I'm very excited to play in Madrid and even meet some of the professional players, if I'm lucky," Alexander expressed.
To make this dream a reality, Alexander's parents has to cover the travel costs to Madrid. Bon Dia Aruba talked with Alexander's mother, Claudia Meriño, who explained more about the costs.
"It's a big sum, but we are working hard to make his dream come true. It's not cheap, we have to play for everything. They are offering a package that includes accommodation, food, transport and a few tours, plus uniform and entry for the tournament for the plus one. However, even with all these things covered, it's still very expensive and we still have to pay for Alexander and his plus one's flight," Meriño explained.
The tournament will take place from March 31st to April 8th. If anyone is interest in contributing in Alexander's dream, Claudia is available through phone call at 7307325. "Any help or contribution, no matter how big or small, will be greatly appreciated," Meriño finalized.