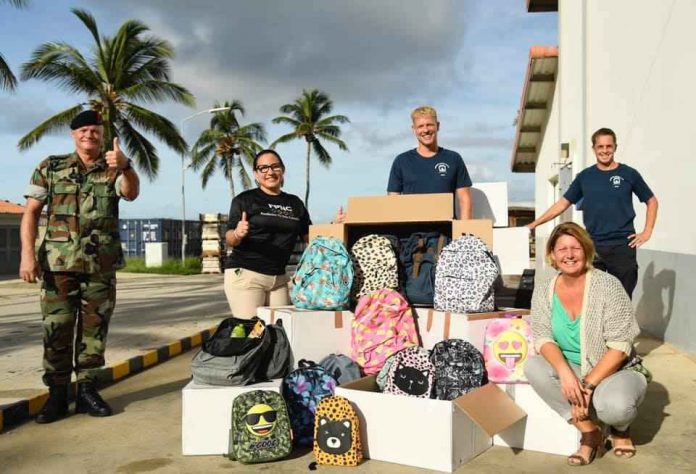 Fundacion Pa Nos Comunidad (FPNC), the official local food bank, presented by director Gainaika van de Biezen and Monique Drent, volunteer and initiator, started a donation campaign in the Netherlands for the school children in Aruba in July of this year.
The goal was to collect as many filled school backpacks in the Netherlands as possible for the affected children in Aruba. This initiative came about because Monique, as one of the volunteers, distributes food packages to families every week. Because of the Covid-19 crisis, many families in Aruba have to rely on help from FPNC, among others. Due to the problems in the families, it is difficult for many children to develop properly and to concentrate at school. How cool it would be to give every child a new school bag with nice things, she thought.
In a short period of time, the donation campaign was launched in the Netherlands via radio / television media and Facebook. The donors could participate by buying a sturdy backpack containing at least eight primary school materials such as; pens, diary, colored pencils, markers, notebooks, etc. The filled backpack could be handed in at various collection points in the Netherlands. Friends of Monique have made space available in their houses to collect the many backpacks. Many sweet and enthusiastic donors, including artist Mario Gonsalves and Miss Planet Aruba 2020 Angelique van Varsseveld, participated in the promotion. A total of 20 large moving boxes have been filled. The boxes were made available by moving company "Jan de Jong removals" in Groningen.
For help in transport from the Netherlands to Aruba, Monique has enlisted the help of the Defense. Marine barracks Savaneta contacts Paul, Guido and barracks adjutant Arthur van Hofwegen have set up a transport plan with the result that the boxes were transported with the ship HNLMS Pelikaan to the Caribbean, Aruba at the beginning of September.
Yesterday was the moment that the boxes could be handed over to Monique and the director of FPNC. A team from FPNC with its volunteers take care of the distribution of the backpacks and ensure that everything ends up properly.
To all donors in the Netherlands, especially Fred & Monique, Ellen and Ellis MASHA DANKI!