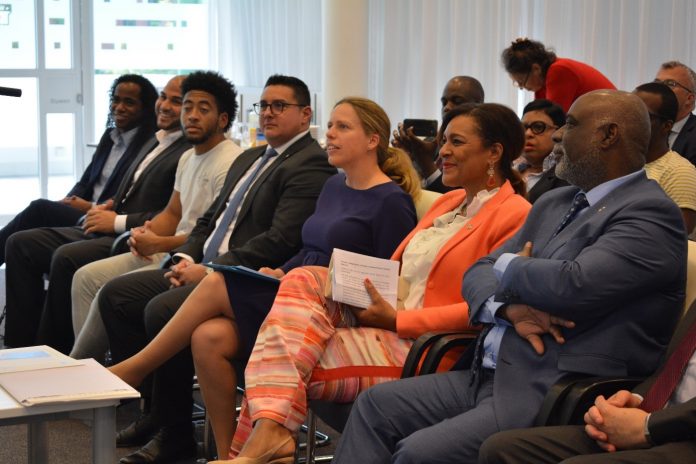 THE HAGUE — The Dutch Minister of Agriculture, Nature and Food Quality, Carola Schouten, was present at the closing ceremony of the Caribbean thinktank that took place in The hague. The Caribbean Thinktank was funded in order to give her advice. The thinktank consistig of island students are students or professionals from the six islands who work and study in the Netherlands en who feel involved for the development back home. The educational foundation WeConnect brought them together to bond with the policy makers.
Themes
Three young think tankers gave a presentation on behalf of their group on agricultural related topics: the collection and re-use of rainwater, food security, the pursuit of more local production and finally "Sexy Farming" with attention to the image of agriculture and the role of education. Minister schouten was quite impressed with the proposals presented and called on the think tankers to continue. "I challenge you to think further about this in consultation with the local authorities and other partners in this field such as knowledge organizations and offcourse the farmers themselves."
Inter-island cooperation
The plenipotenciary Ministers of Sint Maarten, Curaçao en Aruba delineated an image on what is needed on their island and they emphasized on working together for instance by creating a inter-island food market. "We all have the same taste, so why not grow tomatoes in Curacao, Cucumbers in Aruba or lettuce in Bonaire?, says Guillfred Besaril, plenipontenciary Minister of Aruba. The Plenipotenciary Minister of St. Maarten draw attention to the sharp rise in food prices in the supermarkt, which was hit by a hurricane.
Capacity Building
The think tank was led by the Curacao Public Student Management, Gilberto Morishaw, who has been an intern at the Ministry of Agriculture, Nature and Food Quality thru WeConnect. "This was a successfull experiment. A combination of intership and thinktank with a versatile student as Gilberto as midpoint. We are happy to have made the connection between the highly educated Caribbean students in the Netherlands and the Ministry. Next step will be to connect the Agriculture, Nature and Food Quality fields of the islands", says WeConnect manager, tanja Fraai.
Minister Schouten handed out the certificates to all the participants of the thinktank. She also announced that she will pay a working visit to Bonaire, Saba en Sint Eustatius in September.