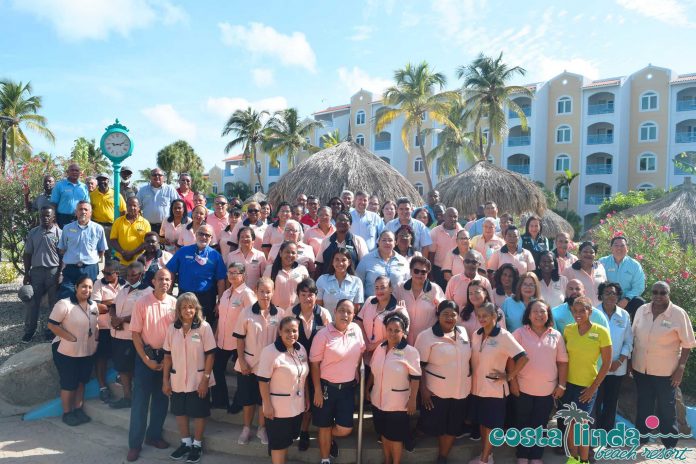 Costa Linda Beach Resort sold its first unit to Robert & Shirley DeLong on December 17th, 1990, even before the resort was established, which open its door for the 1st guest, on November 1st, 1991.
Located at Punta Brabo at the beginning of the famed Eagle Beach, the resort measures approximately 6.5 acres (+29,900 m2), and offers spectacular ocean views from the terraces and balconies of almost all units.
A lot has happened in the past 30 years, and it has all been exciting, positive growth. While maintenance and upgrades are a way of life at the resort, the one asset which remains constant and untouched is the much-loved beach, measuring over 700 feet, delivering a 250 feet long sand box, for the members to play in, year round".
Almost 10 years ago, the resort undertook extensive renovations, including the complete u-shaped five story building with its 155 units, 139 two bedrooms and 16 three bedroom suites. The renovations introduced energy saving smart systems, and other efficient strategies, streamlining the operation and paving the way for the upcoming Frangipani Suites, five additional units on the ground floor, featuring 3 bedrooms/3 bathrooms and 2 bedrooms/2bathroom luxury accommodations. Costa Linda Beach Resort is currently owned and governed by the Costa Linda Beach Resort Cooperative Association which is made up of all its time share owners.
Since then, some things have changed, but some things remain the same. There are employees that have been with the resort for those 30 years, who welcome you with the same friendly smile and warm greeting upon your arrival. They have upgraded their facility many times over the past 3 decades, but their purpose and commitment to provide you with the best possible vacation experience remains unchanged.