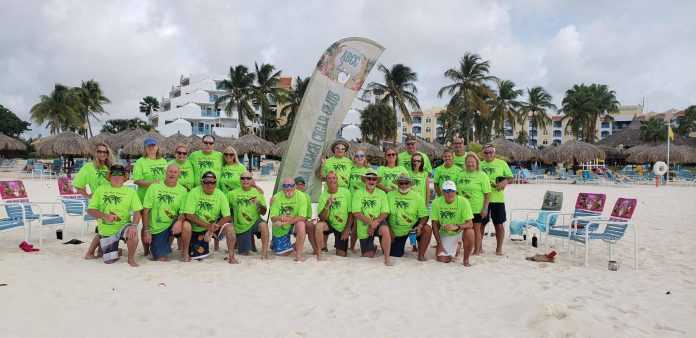 When Henry is in the office of General Manager Luigi Heredia, he entertains his audience, Luigi and the executive assistant at Costa Linda Beach Resort. The man is a character. He's been coming to Aruba since the 80's, never missed a year, including 2020. He intends to spend the next few weeks under a beach palapa, he says, among his Aruban friends, at his home away from home.
Aruba Beach Cigar Club
Have a look at this great picture sent to us a while ago by John Hensel. He wrote:
"Aruba to me is …… Spending time with my Aruba family! Pictured here is our ever growing Aruba Beach Cigar Club (ABCC) formed in 2011 at Costa Linda."
Our favorite hotel staff by Nancy Fletch
"The following photos are from our favorite people at Costa Linda resort. Maria is our housekeeper on the 5th floor in December when we are there. She is pictured with my husband Chuck. Edwin who manages the bar walked me down the aisle when Chuck and I renewed our wedding vows and Rossy Deveaux who has been our favorite beach beautiful girl who is just amazing! We love all the Costa Linda staff so much. Hope to see you all in December. Stay safe. Stay healthy.
Donna & Jack Sullivan
Not knowing what we'd find twenty years ago, Jack and I flew to this amazing Island with tropical blue waters. Immediately, we felt a warm, hospitable presence from the Aruban people. Falling in love with the Island, we immediately purchased time-share ownership at Costa Linda.
As years went on, we not only purchased many more weeks at our Resort, but also purchased in addition, our own three-bedroom condo on the Island.
So many new friends we've acquired over the years as well as our love and appreciation for all the hard-working employees at our Resort. A true family we have here!
There have been so many good times and fond memories over the years, even having the privilege and honor of becoming Costa Linda's first Carnival Queen in 2004. Yes indeed, the Sullivan family has become fond lovers of Aruba.