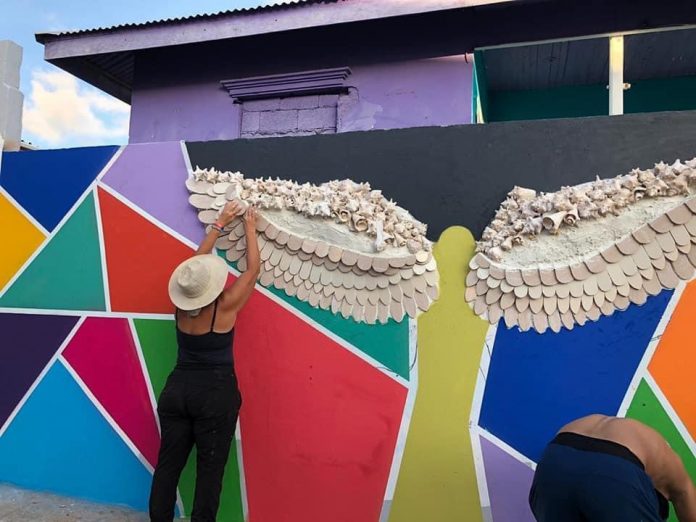 Many people sat to admire her while she was working on a bench, decorated with images of flora and fauna by Costa Linda, as part of Linear Park. And for Omaira Silva, this bench is just another step for Aruba to become 'one mosaic island'.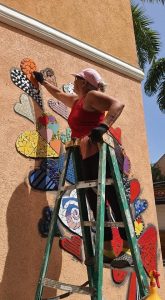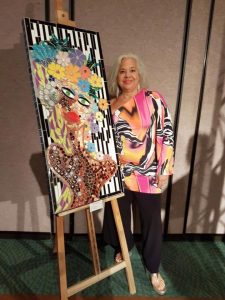 Omaira Silva is total personality: A person full of energy and always ready to motivate others to get involved with Aruba. As a member of Women's Club of Aruba, Silva is present and directs activities in the interest of the community. And these activities must always have a lot of emotion and color, because Omaira is a person full of emotion and color and she wants to share this special energy and vibes with Aruba.
It was in 1996 when Omaira Silva went to live in the Netherlands, that she decided to take the art of mosaic seriously. She came in contact with a group who would make art out of broken tiles, and there was no way to stop Omaira. "From the first moment when I broke my first tile, I felt powerful", Silva says. She had a lot of yellow tiles to work with, and she created a sort of sunflower on wood. "It was something small, but I liked it a lot and I wanted to continue with this form of art."
But it was in 2000, when Omaira moved to Mallorca to be with her offspring who was doing an internship at a hotel, that she really fell in love with mosaic; particularly after doing a course, and 'I felt that this is really my thing'.
In 2004 Omaira came back to Aruba, went to live in Savaneta, and that's how her mosaic Art Studio was born. First thing she did when going home was to go find tiles, because she was determined to develop her art. First the creations were for her own collection, and then she realized they were the ideal gift. Her first mosaic art as a gift was for her friend, Minouche Hamers, and was a mirror with a mosaic frame. "I'm sure she has it still."
Aruba Art Fair and Isidora
But the whole of Aruba came to know Omaira the artist in 2016, with Aruba Art Fair. Initially, Silva met with a whole group to hear the idea from Tito Bolivar, the mind behind the art event for San Nicolas. Bolivar knew the artist Isidora Paz Lopez, from Chile, 'who was also my idol'. The intention was for Omaira to also participate in the Art Fair, but she didn't hear anything more about the project.
Meanwhile, Isidora did come Aruba, invited by Enrita Werleman, another mosaic artist. Lopez Paz came with her design, but also under the impression that there would be a big team to help her with her work in Aruba. "Isidora is an artist who experiences 'breakdowns'. Right now she is going through such a moment", Omaira told us last year. And in June 2016, in Aruba, Isidora needed help with her creation 'Carnival Nymph', after she started working on her project at her hotel in Aruba.
"Mervine Kock told Tito Bolivar that I would be able to help her finish with the project." Bolivar called Silva, and by the next day the artist went to meet her idol. The connection was instant, and that same night, Omaira went to pick up her own materials, from light to even a broom, because she knew what is involved in such a project. They worked during foud days, including at night, on the piece, and by the end of the fourth day they went to install the piece in San Nicolas. "We succeeded", Silva says. But the final touch to the design came in October, a couple of months later, when the artist came back to add the final details to the piece which to this day receives a lot of attention.
The collaboration between Isidora and Omaira led to a friendship and another collaboration, but this time in Pirmasens, Germany, where the Chilean artist was invited to create the biggest mosaic mural in Rhineland. And Omaira was part of that piece, which received a lot of attention in international press. "It was right before the pandemic", Silva remembers. It was even in December 2019, when the world was watching closely for a virus from Wuhan, China.
The project in Germany was followed by a piece which Omaira did herself, invited by Tito Bolivar, which was the angel wings in San Nicolas. Wings made from seashells which is one of the most eye-catching art pieces from the Aruba Art Fair.
"I was going to the beach every day to collect the seashells to make the wings", Omaira remembers. She received help from American artists Kim Wozniak and Laura Rendlen, who accepted the invitation to help with the project. "That's how you see how artists collaborate with each other."
But Omaira's work is all over Aruba. Mosaik Art Studio has produced a huge amount of art, from the streets of San Nicolas all the way to Paseo Herencia. But her focus remained on the project of social benches. "When I was living in the Netherlands, they started with the project to put benches like this in every province in the Netherlands. When I went to Germany, I went to see the benches." The project Ban Mosaik, together with Tito Bolivar, was however limited because of the pandemic.
But Mota Engil, in charge of the Watty Vos Boulevard, approached Omaira Silva to create a mosaic social sofa in Eagle Beach. And the project of benches decorated with Aruba's flora and fauna became a reality, and introduced Omaira to various users of Eagle Beach who came to see the work, and tourists who kept coming to Aruba despite the pandemic.
Today, that bench is testimony to the dedication of an artist who believes that mosaic can bring a lot more color to Aruba. However pretty all the paintings in San Nicolas may be, the intense sun of Aruba affects the paint; but mosaic remains firm and colorful.
Omaira Silva's vision is to put more mosaic social benches in Playa, but to create a different type of installation with mosaic, with typical designs of Aruba, to place around the island. The artist visualizes even mosaic totems with the designs that the first Arubans left behind, designs unique to Aruba, made by hands which are still strong enough to break tiles, to bring more color to Aruba.