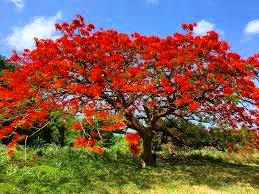 There are numerous ornamental trees that play such a fundamental role in garden landscapes, providing beauty in the form of often spectacular flowers and also a wide range of shapes and textures. 
Over the past three or four centuries such trees have spread from their original habitats throughout the tropics, so that today's gardener has an extensive variety of choices from places you may never have seen.
The famous Flamboyant, or Flame Tree (Delonix regia), for example, comes from Madagascar. In English knowns as Flame tree, Gold mohar, Julu tree, Peacock flower and Royal Poinciana.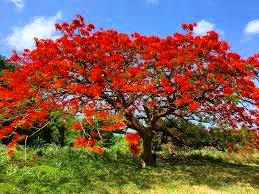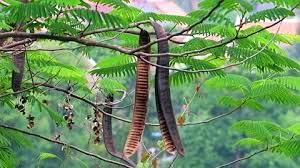 The flamboyant tree has been described as one of the loveliest and most colorful trees in the world. With a blaze of yellow to crimson red blossoms and delicate fern-like leaves, the magnificent flowers graces Aruba from April until September and all around the earth in tropical climates.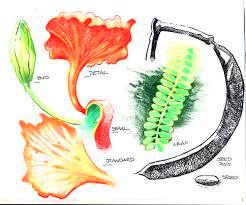 Adapted to local conditions this large tree, which naturally assumes a spreading umbrella shape, originated in Madagascar and is now found in many Aruban gardens. It can grow as tall as 18 meters and has smooth greyish-colored bark and attractive feathery, fern-like leaves, which drop annually during the dry season. At the same time as the new leaves appear, the tree is covered with masses of five petal led flowers that are usually bright red-orange but may also appear in pale apricot. Blooming is followed by long, flattened, leathery dark brown or black seed pods.
It's host for lac-insect. It's a good tree to control soil erosion in the semi-arid and arid areas.
Flamboyant requires full sun and adequate space to take its characteristic form.
Flamboyant trees are very hardy and pest-resistant and grow well in a wide variety of well-drained soils from acid to alkaline and from loamy to gravely and, if managed well, even in the dark clay-like soil in parts of Aruba. The trees are tolerant to draught and may be grown close to the sea, but not right on the beach. Flamboyant trees are not able to survive in zones that go below 45 degrees Fahrenheit. In windy areas, trees are susceptible to branch breakage.
It is easy to plant a flamboyant tree. Start with a closed pod, open the pod and remove the seeds. The seeds have a high germination rate for several years. The seeds grow faster when they are either nicked with a knife or rubbed for about fifteen seconds with sandpaper then soaked overnight. Alternatively you may place the seeds in a pot of water, bring it to the boiling point, remove the pan from the heat source, and leave the seeds in the water until it is cooled. Once the water is drained the seeds are ready to plant; plant them in a location that receives full sun. Plant three or four seeds per tree and thin to the strongest one once they have sprouted. Trees may also be grown from branch cuttings of the tree. It is advised not to plant flamboyant trees close to sidewalks as the shallow roots may protrude through the sidewalk and present a tripping hazard.
In addition to providing delightful dappled shade all year and a profusion of flowers for almost half of the year, the bark and flowers of the tree are rich in phytochemicals and flavonoids and contain antimicrobial, antioxidant and anti-inflammatory properties and have been used for hepatic protection and as a treatment for diarrhea. The dried pods on the tree produce a nice crackling sound in the wind and are easily gathered on the ground to be used as a fuel for fire.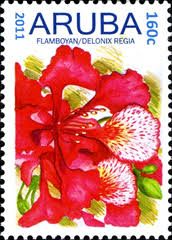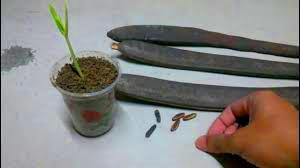 The extract of Delonix regia is known to have medicinal properties. The plant is used in several countries to prepare extracts with antimicrobial and antifungal activities. Delonix regia Rafin, with an impressive range of medicinal and biological properties, has been used in the folk medicine systems of several civilizations like for the treatment of constipation, inflammation, arthritis, hemiplegia, leucorrhoea and rheumatism.
To get to know more about Aruba's and its origins, its animals and culture, we highly recommend you to book your visit for our renowned cultural encounter session which has been entertaining curious participants for decades.  Mail us at etnianativa03@gmail.com to confirm your participation. Our facilities and activities take place close to high rise hotels.