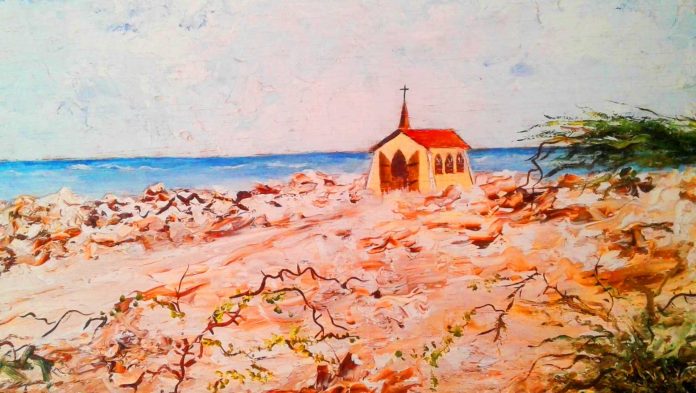 Article by Etnia Nativa call us 592 2702 and book your experience!
In the 18th century most of the inhabitants of Aruba were indigenous who lived on the north coast, one of the largest communities lived in Alto Vista. As they were very religious, they had a person a chief with the name of Antonio Silvester who guided them in the Christian life and it was who decided to build a stone chapel with a roof of corn rods, which would serve as a place of prayer, which in 1750 was blessed by Father Algamesi who came from Coro-Venezuela and appointed Domingo Antonio Silvester as the island's first prosecutor in the name of the Spanish crown and Rome. In 1752 the prosecution passed into the hands of Antonio Silvester's son-in-law, Miguel Álvarez, who continued to guide the parishioners in their prayers.
At the end of the eighteen century many inhabitants the island died as a result of the black fever epidemic and since people believed that the Alto Vista area was the most infected, they began to build their homes further south within the Noord area, so the town of Noord began to grow into a community till getting its own Church. However religious festivals continued to be celebrated at this sacred native place, with the custom of arriving in procession to Alto Vista.
Meanwhile the seat of government of Aruba changed from Commanders Bay in Savaneta to Paardenbaai (Horse Bay) thus creating a great center of activities in, Playa-Oranjestad, so it happened that interest in Alto Vista and its chapel was lost due to the distance. In 1816 Pastor Pirovano prohibited the use of the Alto Vista Chapel the year in which the place was officially banned, in this way the precarious construction deteriorated, although by habit natives continued visiting the place in small groups considering the site as the cradle of spirituality in Aruba. Silvester and Álvarez were the first two prosecutors buried in the Alto Vista Chapel yard.
In 1944 Maria Francisca Pietersz-Lacle, with the help of "Wadji" Tromp, gathered 2,000 guilders on one Sunday for this purpose. They went to request authorization from Monsignor Zepenveld who was in Curacao but he denied the authorization in two different visiting occasion, however they continued to raise funds for the construction and for the third time they visited Monsignor Zeppenveld in Curacao who finally authorized them and promised that he will come to his native island for the blessing of the chapel..
Did you say you love Aruba its origins and cultural heritage? Than this private encounter with our columnist anthropologist is just something for you. Sessions created in a gorgeous setting for visitors with special interests. Appointment is required. etnianativa03@gmail.com or WhatsApp at + 297 592 2702 for an exclusive and insiders' experience.