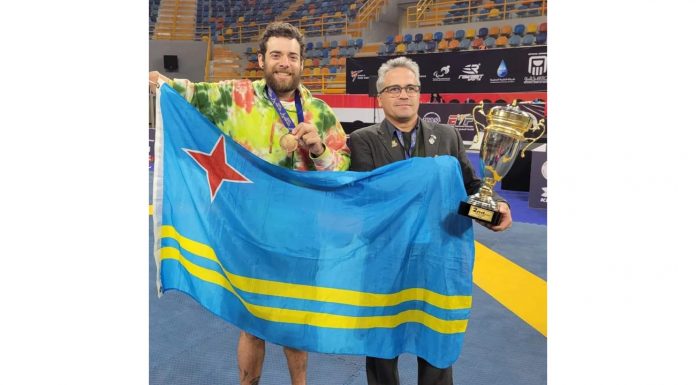 (Oranjestad)—Elliott Loonstra left Aruba on February 1st to participate in three tournaments overseas, two in Istanbul, Turkey and one in Cairo, Egypt. The two tournaments in Istanbul were the European President's Cup and the Turkish ParaTaekwondo Open. In the President's Cup, Loonstra fought against Germany winning 9-0 in his first fight. His second fight was against Mexico (currently rank 6th globally) in which it was a very even fight but Mexico managed to make two kicks in the last 20 seconds of the match, placing Loonstra in 5th place overall.
In the Turkish Parataekwondo Open, Loonstra fought against Turkey after being seeded in the quarterfinals. This match started off in favor of Loonstra but eventually ended up going to golden round as Turkey managed to even up the score. The golden round went in favor of Turkey placing Loonstra, once again, in 5th place.
After the Turkish competitions, Elliott Loonstra PLY and his coach Luciano Mazzeo headed to Cairo for the first Egypt Parataekwondo Open. In his first match Loonstra fought an Egyptian athlete scoring 34-4 against his opponent sending him to the finals. In the finals Loonstra fought against another Egyptian. The stadium during the final match was filled with screams for the Egyptian athlete but in the end this match ended in favor for Loonstra, 12-2, resulting in Loonstra standing at the top of the podium with the Gold Medal. During the awards ceremony Coach Luciano Mazzeo won a trophy for the second best male coach at the tournament showing that he has an outstanding knowledge about the sport and a great capacity for coaching.
Elliott Loonstra PLY is extremely happy with the results of these tournaments and with the points granted he has moved up in ranking to once again be 7th globally. Elliott Loonstra PLY would like to thank his family for the overwhelming support they have provided over his career, Romina Martinez of Rorofitness who has helped Loonstra with his physical training over the past two years and BodyZone Aruba that sponsors Loonstra providing him with a space to train and improve his abilities both in Taekwondo and his overall physical performance. A special thank you to the people of Aruba for always giving their support.