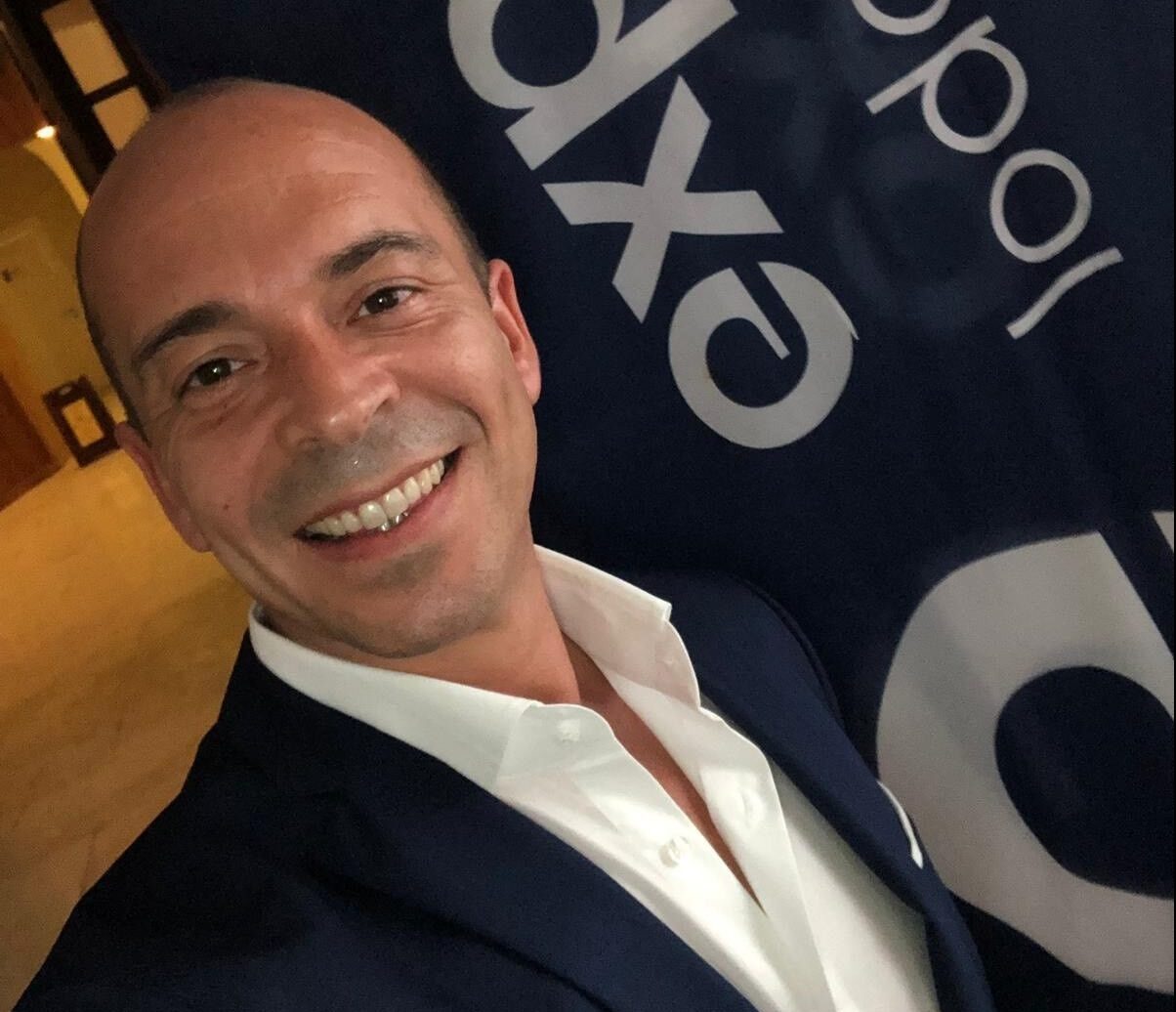 ORANJESTAD — The latest data of Expedia Group (2018 full year) reported that the demand for Aruba grew 10 percent from the U.S. market and over 30 percent from the Brazilian market year over year on Expedia Group sites during the first three quarters of 2018 v. first three quarters of 2017. The U.S. market also reported to be the top market for mobile demand in Aruba, with a preference for 4 star hotels. Additionally, European markets such as the Netherlands, Spain, Italy and the UK saw an increase from July to September in 2018 in comparison to last year. Aruba Today interviewed Nuno Sales, Director Market Management for Expedia Group Lodging Partner Services.
Expedia Group sites also reported that packages and mobile demand is still on the rise for the following markets: Palm Beach, Eagle Beach, and Oranjestad. Also, the top feeder markets to Aruba for the full year 2018 were as follows (in that order): U.S., Brazil, Canada, Netherlands and Argentina.
Sales: "I am responsible for helping the team grow the business and work hand in hand with Expedia Group's hotel partners in the Caribbean. One of Expedia Group's strategic imperatives is becoming locally relevant on a global basis and that is exactly one of our objectives in Latin America and of course in our key markets across the Caribbean." Offering the hotel partners effective solutions, technologies and marketing expertise to level their playing field and at the same time, to contribute to the region's tourism growth, and to support the recovery efforts on the islands that have been affected by natural disasters is Expedia's goal.
5 Trips a Year
According to a 2018 research study by Expedia Group™ Media Solutions, the advertising arm of Expedia Group, Latin American travelers are taking nearly five trips per year and the average leisure trip duration is 10 days.
More than 50 percent of Latin American travelers use online travel agencies (OTAs) during the trip planning process, ahead of airline, hotel or destination websites. Forty-nine percent of travelers book their trip on an OTA – the strongest conversion from planning to booking among Latin American travelers. More than half use their smartphone when looking for travel inspiration and more than one-third conduct travel research on their mobile device. Unsurprisingly, mobile usage spikes in-trip, when more than 75 percent of Latin American travelers utilize their smartphone. Nearly 60 percent of Latin American travelers opt for relaxing trips, followed by visiting family and sightseeing trips, according to Sales.
Gen Z
Based on other recent Expedia Group™ Media Solutions research study, Gen Z travelers (those born between 1996 and 2010) are already taking almost as many trips as millennials and are more drawn to experiences by the beach than Millennials (M).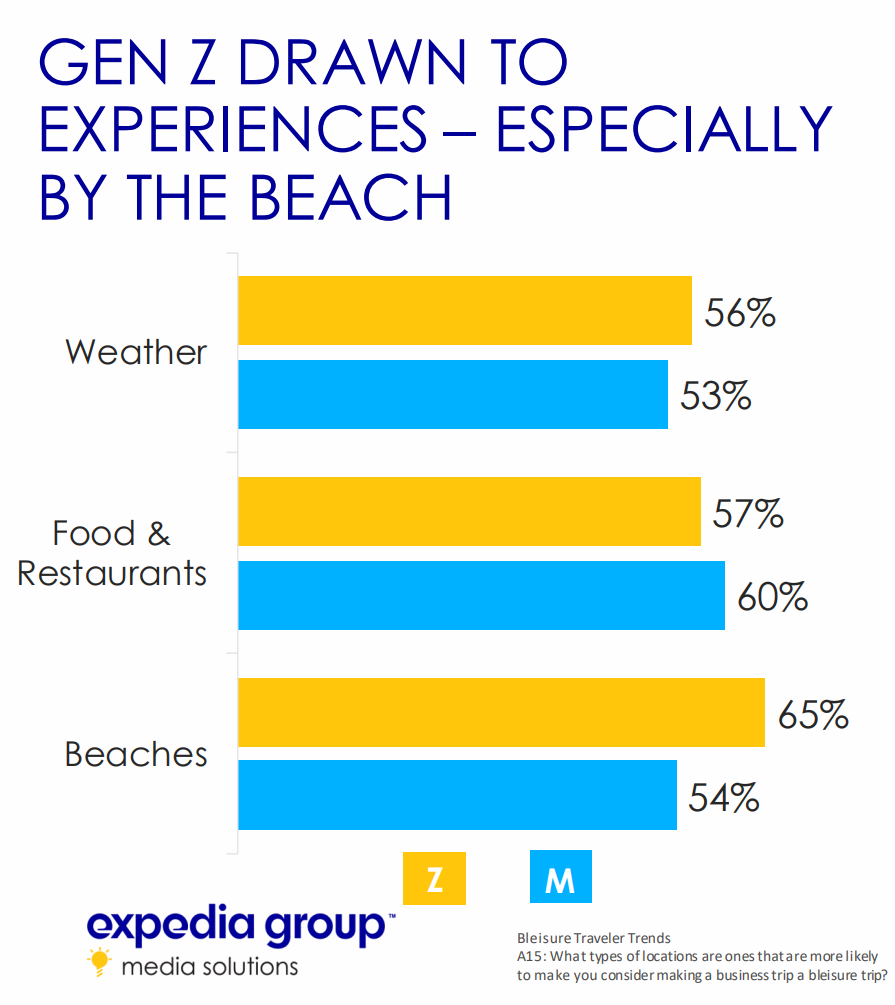 Activities and experiences are also getting to the heart of travel decisions for both Gen Z and Millennial travelers, as shown on the following chart: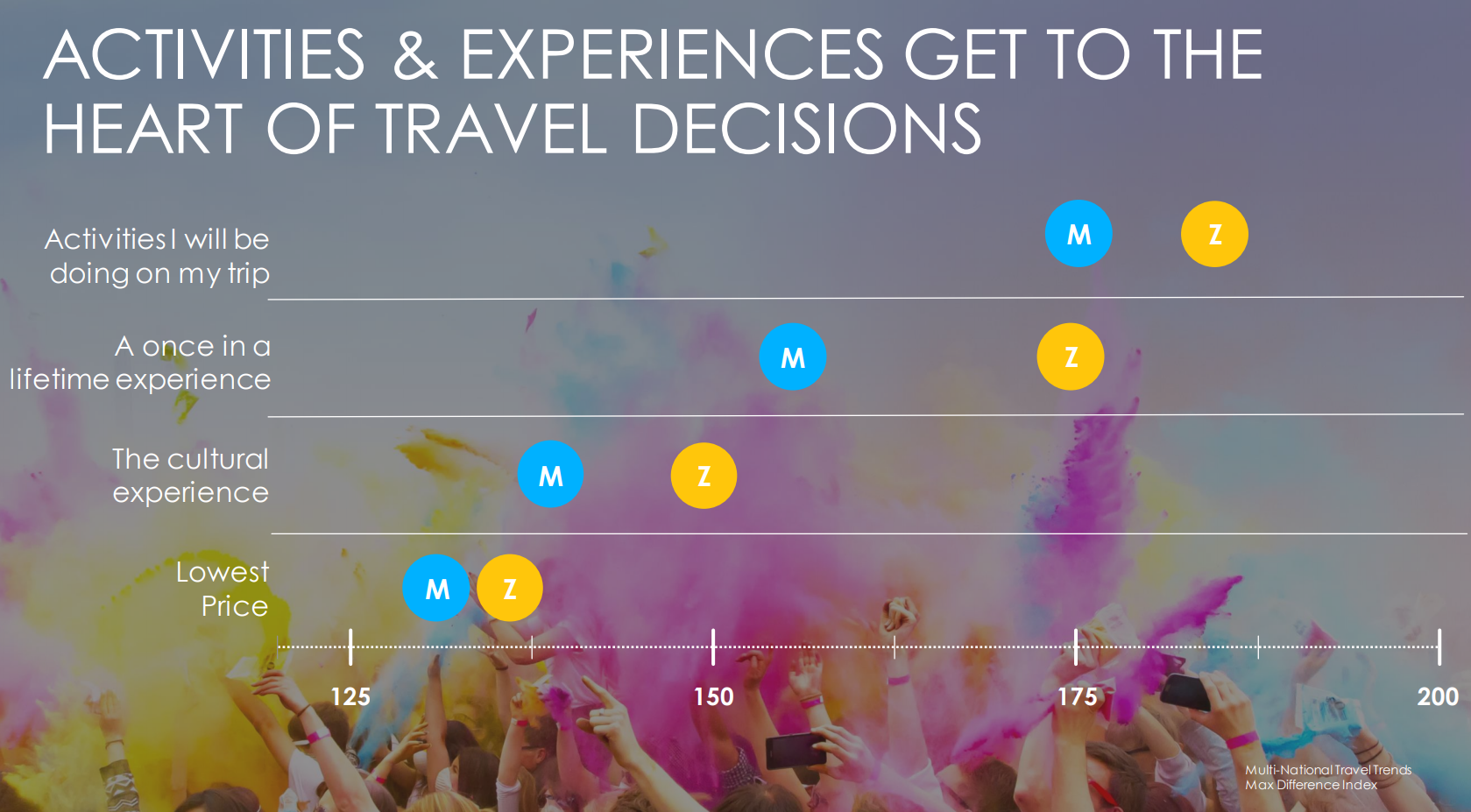 What are the trends in the region and what do you expect for this year 2019?
According to the director experiences have taken priority over possessions, as a path to happiness and fulfillment and personalization has become the "new thing" to drive traveler satisfaction. Machine Learning and Artificial Intelligence have become two very powerful and positive disruptors.
Sales: "Economy in the region is predicted to be volatile in 2019, yet the global travel landscape continued to grow in 2018 and is showing no signs of slowing down. Air, rail and car bookings recorded increases of above three percent, according to Phocuswright. As for what Expedia Group's expects to achieve during this year, we hope to bring more value to our activities vendors that provide more than 35K experiences, deliver relevant market insights, and strategic counsel to all of our industry partners.
We want to continue to be the world's travel platform by orchestrating the movement of people and the delivery of travel experiences on both a local and a global basis." Expedia Group believes that just as today's travelers have already been trained to research products and prices, read reviews and make educated and discerning purchase decisions, the travel industry in the Caribbean needs to understand how to appeal to their customer's personal needs. Technology advancements will lead the path in the travel space, and we want to support the Caribbean region to improve guest experience through innovation.
Eco-Friendly Caribbean
"We are seeing that a good amount of urban areas in the Caribbean destinations are committing to improve the quality of services and amenities that they offer to international travelers but there is also true that there is an uprising demand of green friendly options, not only for eco-friendly destinations but also eco-friendly properties and amenities", says Sales.
For instance, Dominica has a good amount of properties that had been built on sustainable guidelines and are working on reducing wastewater, food waste, and electricity usage. They are also the first island state to ban single-use plastic, with Jamaica and Barbados following their steps. St. John, in the U.S. Virgin Islands also offers a green lodging experience in campgrounds that do a lot to minimize tourism impact in the local natural environments. The island of Bonaire has also made a commitment to green living not only by offering eco-friendly lodging but by powering much of the island with wind energy and using bio-diesel.
"As Expedia Group, we had also assumed our responsibility as a Global Travel Company and we support several projects across the Caribbean, along with organizations such as the Clinton Foundation. In Puerto Rico, we are supporting an environmental initiative on the island of Culebra, one of the most-visited marine ecosystem in the Puerto Rican archipelago, to bring back sustainable tourism. The program helps fund an in-depth evaluation of the area; and the creation of a management plan to protect it and maintain it."q