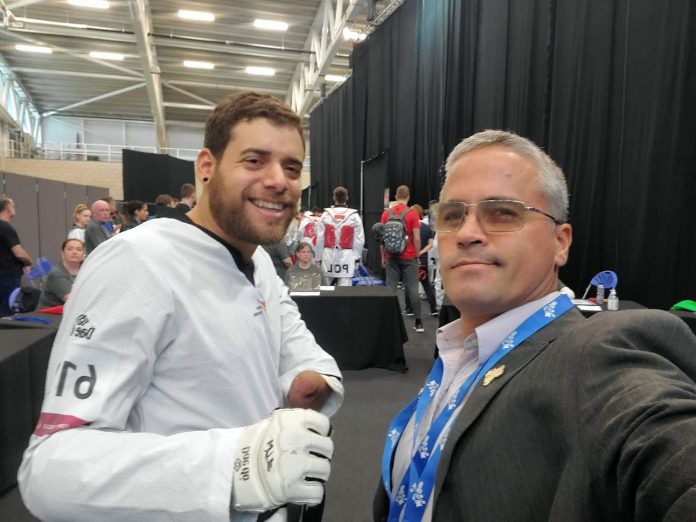 Elliott (Lefty) Loonstra PLY finished his participation in the 5 (fifth) place in the 2022 European Para Taekwondo Open Championships being his first participation in the old continent on Saturday May 21st, 2022, which was the competition day for the K44 Male -80 KG category.
Elliott woke up feeling sick, so bad that the option of not participating was evaluated with his coach Luciano Mazzeo, since he felt not fit enough to fight. Finally, it was decided to compete for points that are important to maintain his world for ranking, while evaluating his condition during the competition.
In the quarterfinals he faced Turkey, a very powerful team and one of the biggest and most imposing teams in the world. The fight is 1 (one) round of 5 (minutes) with a 'time-out request' by each coach of 30 seconds. In his first minutes the Turkish competitor had the advantage, but little by little Elliott began to close that advantage, until the last 5 seconds where the score was in favor of the opponent 9 to 7. Elliott could have been able to equal the score and move on to the golden round, but unfortunately Turkey was able to connect and raise his mark with 1 kick ending the match 11 to 7 in favor of the Turk who moved on to semi-finals.
The European championship is one more step towards the Grand Prix, for the first time in the history of Para Taekwondo that will take place in Sofia, Bulgaria on June 6, 2020. Only the first 15 of the ranking of each weight category can participate. Lefty is 7th (seventh) in the world. Elliott Loonstra PLY has been in Sofia,Bulgaria since the 23rd of May 2022 and our Paralympic athlete has been very focused for this important and historic event, preparing with his coach Luciano Mazzeo once again to fight for Aruba and put our flag high in the world. We wish Elliott Loonstra PLY the best of success and we thank the Loonstra family for their support as well as the people of Aruba for their support and kind comments.