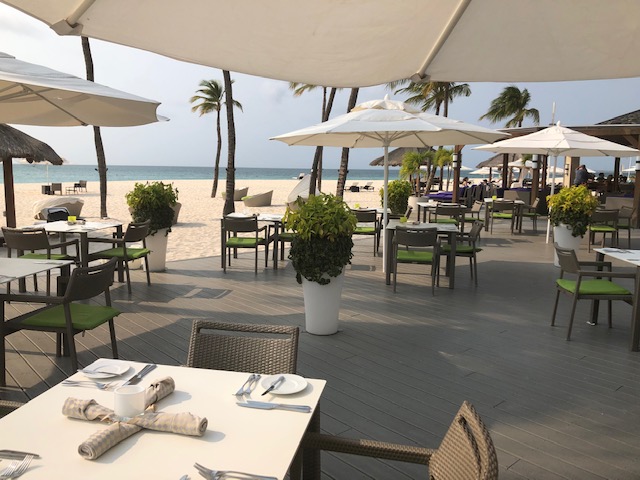 October 23, 2019 – TripAdvisor®, the world's largest travel platform, just announced the recipient of its annual Travelers' Choice® Awards for Restaurants with Elements restaurant at Bucuti & Tara Beach Resort being named a winner. Aruba's sole awardee is honored to be among the Top 10 Best Fine Dining Restaurants in the Caribbean.
This year, the awards recognize 584 total restaurants globally. Based on a full year of TripAdvisor reviews, these restaurants were consistently given high ratings and praise by diners worldwide. TripAdvisor houses more than 795 million reviews and opinions of 8.4 million accommodations, restaurants, experiences, airlines and cruises. The Travelers' Choice Award is the highest honor TripAdvisor bestows. It is only awarded to the best of the best, based on service, quality and customer satisfaction.
"Diners rely on candid reviews and guidance from other TripAdvisor users to discover restaurants of all types, from local hidden gems to famous restaurants all over the world," said Bertrand Jelensperger, senior vice president for TripAdvisor Restaurants.
Poised on the white sands of famed Eagle Beach, Elements restaurant is renowned for its elegant dining environment with a "View to Dine For." Director of Food & Beverage and Chef Marc Giesbers presents an international menu inspired by quality meats, fresh seafood, locally grown vegetables and foraged flavors from around the world. Wines from the finest vineyards and celebratory Champagne rank among the highlights of the restaurant's award-winning offerings. As an extension of Bucuti & Tara's commitment to wellness, Elements offers both an atmosphere and menu encompassing Aruba's beauty and local ingredients, including lionfish ceviche, and farm-to-table greens and vegetables. Its creative, popular vegan and vegetarian menu has also received critical acclaim and gluten-free options are freshly created and sourced.
Elated from winning the Wine Spectator's Award of Excellence earlier this year as well as the USA Today 10 Best restaurants in Aruba, Bucuti associates are celebrating this latest recognition with great pride.
"We are honored to receive this prestigious 2019 TripAdvisor Travelers' Choice Award for Fine Dining. Our passionate F&B director and his hard-working team made this possible," says Ewald Biemans, owner/CEO of Bucuti & Tara Beach Resort. "We aspire to provide an excellent dining experience for our guests and are grateful to represent Aruba on this highly respected list of winners."
To make reservations, visit ElementsAruba.com.