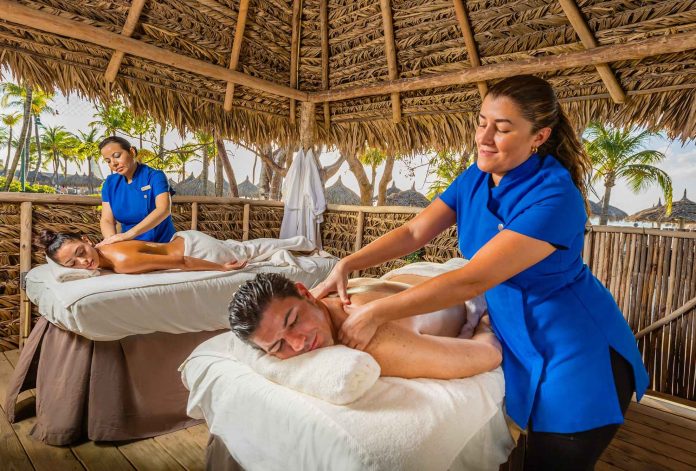 "As a new year presents us with added challenges and unrelenting pressure, clients in need of self-care, striving to maintain a vibrant immune system, turn to our professional therapists, for more than simple pampering," says Marielle Smeets, Sr. Director of Resort Experience.
The popular oceanfront Palm Beach location, with eight treatment rooms, offers an extensive menu of services for women and men, providing exceptional sanctuary, designed to balance body, mind and soul, for those who arrive at the gate weary and leave completely refreshed.
The spa requires all staff members to wear masks and face shields, while maintaining the facility's overall cleanliness and hygiene in accordance to Hilton's CleanStay protocols.
Using top quality brands, Hilton CleanStay builds on its already meticulous cleaning standards to provide guests with complete peace of mind, while delivering the same level of reliable and friendly service as before.
Spa guests are kindly asked to wear face coverings, which are provided by the spa, upon arrival. As part of the spa ritual, guests are greeted in the reception area with a cool face towel, and iced water. They can then head to the locker room to change into a comfortable robe and slippers before being escorted to their treatment, where a sealed room, with a Hilton CleanStay Room Seal, indicates the space had been recently cleaned and disinfected, ready to receive them.
All treatments commence with a leisurely Hand Cleansing Ritual, utilizing Aruba Aloe products. Hands are thoroughly sanitized with hand soap, Aloe hand scrub, hand sanitizer and hand lotion, and the therapist washes her/his hands more times during treatment.
All therapists wear aprons to cover their uniforms, which are changed between treatments, and all body massages may be performed with gloves, upon guest request.
Shared service such as saunas, steam rooms, cold plunge pools, locker rooms, and facial services have been temporarily suspended.
Visit eforea spa, for a much needed escape, and enjoy the added confidence of top hygiene practices created to keep you safe, complemented by many upgrades and improvements.
To book a treatment, please call +297 526-6052, email auahh_eforea_aruba@hilton.com or book online: www.hiltonaruba.com/eforea-spa-at-hilton-aruba.