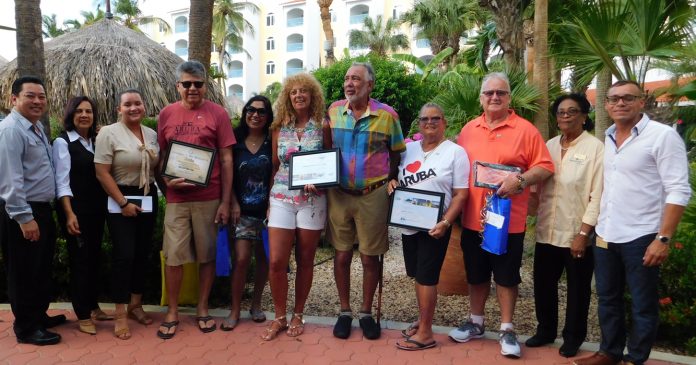 Recently, Jonathan Boekhoudt had the great pleasure to honor a loyal and friendly visitors of Aruba as Goodwill Ambassadors and Distinguished Visitors at their home away from home. The symbolic honorary title is presented on behalf of the Minister of Tourism, as a token of appreciation to the guests who visit Aruba between 10-20-35 and more consecutive years. 
The honorees were:
Robert & Karen Beyerlein residents of Lupton Michigan
Gustavo Lopez & Griselda Rodriquez residents of Bariloche Rio Negro, Argentina
Daniel & Graciela Valenzuela de Rodriquez, residents of Paraguay
All these loyal and friendly visitors consider Aruba to be their best vacation escape because of the warm inviting sun, its kind people and the great section of restaurants.
Boekhoudt together with representatives of Costa Linda Beach Resort thanked them for choosing Aruba as their vacation destination and as their home away from home for so many years.q