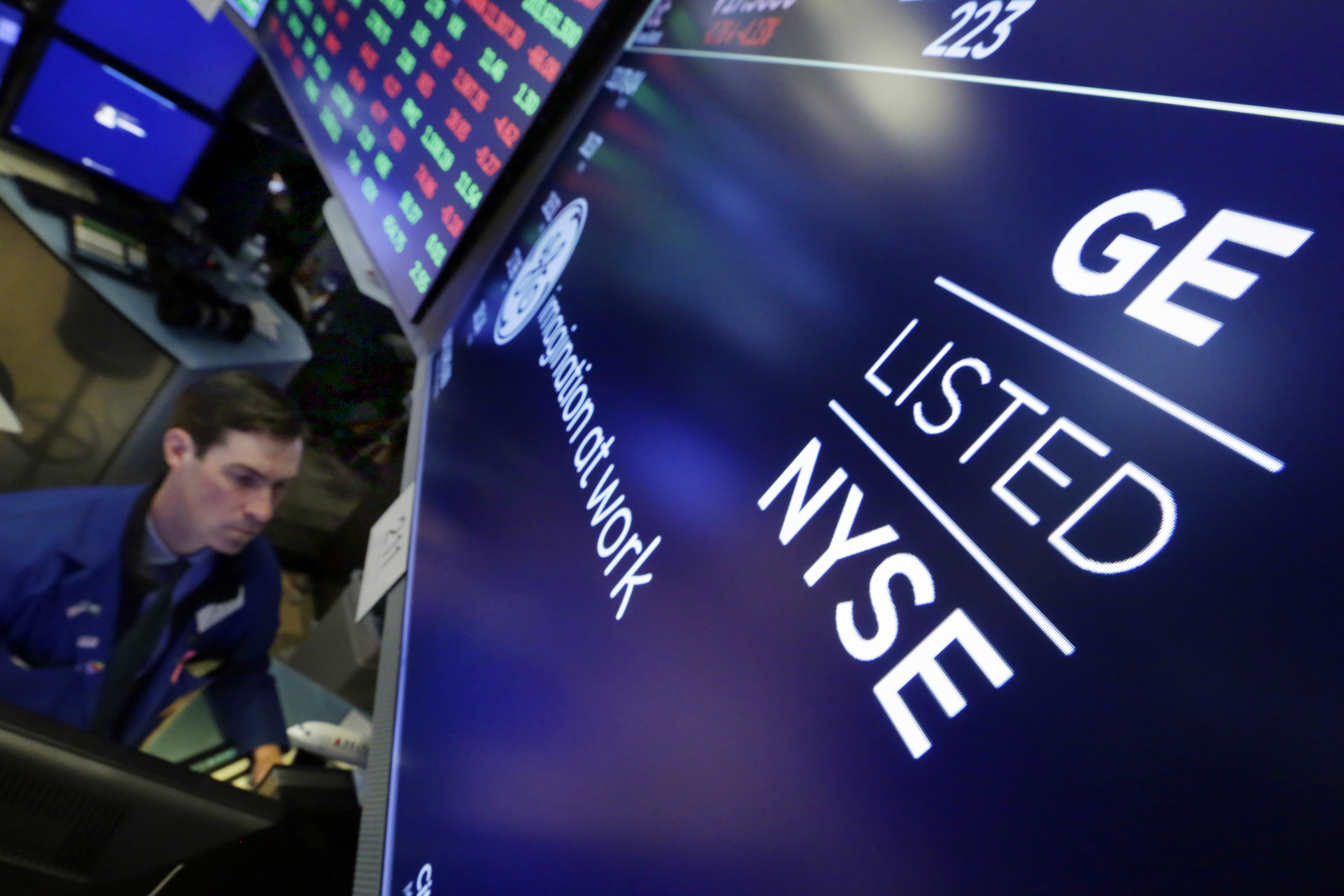 By ALEX VEIGA
AP Business Writer
Losses by industrial and technology companies helped pull U.S. stocks lower Tuesday, pulling the market back from its latest record highs. The slide erased some of the gains from a broad rally earlier in the day that had sent the Dow Jones industrial average past the 26,000-point threshold for the first time.
Energy stocks also fell as crude oil prices declined. Health care stocks were among the gainers as investors sized up the latest company earnings and deal news following a long holiday weekend.
"We've come perhaps a little bit too far, too fast," said Terry Sandven, chief equity strategist at U.S. Bank Wealth Management. "If you look at year-to-date performance, you have the broad popular indices up roughly 3 to almost 5 percent in two weeks' trading. That's a fairly torrid pace and a pace that we think is perhaps a little aggressive, so a little bit of a pause here would perhaps be constructive."
The Standard & Poor's 500 index fell 9.82 points, or 0.4 percent, to 2,776.42. The Dow lost 10.33 points, or 0.04 percent, to 25,792.86. It had been up as much as 282 points earlier. The Nasdaq shed 37.38 points, or 0.5 percent, to 7,223.69. The Russell 2000 index of smaller-company stocks gave up 19 points, or 1.2 percent, to 1,572.97.
Bond prices rose. The yield on the 10-year Treasury fell to 2.54 percent from 2.55 percent late Friday. The Dow's latest milestone-setting move happened shortly after the market opened Tuesday as investors weighed encouraging earnings from Citigroup and UnitedHealth Group.
It took the Dow seven trading days since it first closed above 25,000 on Jan. 4 to cross the 26,000-point threshold. That's faster than the 23 days it took the Dow to go from 24,000 to 25,000 points, which was a record thousand-point swing. The milestone moment didn't last. The rally lost steam by early afternoon, ultimately pulling the Dow and the other major indexes into the red.
Even with Tuesday's reversal the stock market is off to a stellar start in 2018. The S&P 500 index has closed lower only one other day this year. It capped last week with its seventh weekly gain in the past eight.
Investors have been encouraged by strong global growth and rising company earnings. For the next few weeks, traders will have their eye on companies reporting results for the final quarter of 2017 for details on how the tax overhaul that took effect earlier this year will affect corporations.
Many companies are taking one-off charges for bringing home money held abroad, but traders expect them to benefit in the long run from the decision to cut the standard tax rate from 35 percent to 21 percent and are bidding up their share prices.
On Tuesday, Citigroup reported an $18.3 billion loss for the fourth quarter due to the new tax law. But excluding the one-time charges, Citigroup earned a profit. The stock added 27 cents to $77.11.
UnitedHealth Group gained 1.9 percent after its said earnings more than doubled in the final quarter of 2017. The nation's largest insurer also raised its forecast well beyond expectations, largely due to help from the federal tax overhaul. The stock picked up $4.26 to $232.90.
Elsewhere in the market, particularly with technology and industrial stocks, investors opted to sell. "A big concern is the market right now is: 'Is tax reform priced in?'" said Lindsey Bell, investment strategist at CFRA Research.
Alliance Data Systems led the technology sector decliners, shedding $18.30, or 6.6 percent, to $258.07. General Electric was among the biggest laggards in the industrials sector. The conglomerate slid 2.9 percent after the company said it was taking a $6.2 billion charge related to its insurance portfolio. GE lost 55 cents to $18.21.
Viacom tumbled 7 percent after following several reports saying the media company is not in talks to merge with CBS Corp. The slide followed a sharp jump in Viacom Friday after a published report suggested that a merger might be a possibility. Viacom fell $2.38 to $31.38. CBS rose 60 cents, or 1 percent, to $59.43.
The price of bitcoin slumped, deepening its slide this year, after South Korea's top financial policymaker said that banning trading in digital currencies was an option. Bitcoin sank 21.1 percent to $10,718 as of 4:48 p.m. Eastern Time Tuesday, according to the tracking site CoinDesk. Bitcoin futures on the Cboe Futures Exchange settled 19.9 percent lower at $11,055. The futures allow investors to make bets on the future price of bitcoin.
The price of bitcoin soared last year after starting 2017 under $1,000, but has been hurt this year amid signs of potentially increased scrutiny from governments. Many finance pros believe bitcoin is in a speculative bubble that could burst any time.
Energy stocks also declined following a drop in crude oil prices. Range Resources lost 80 cents, or 4.6 percent, to $16.78. Benchmark U.S. crude fell 57 cents to $63.73 per barrel. Brent crude, used to price international oils, shed 99 cents, or 1.4 percent, to $69.27.
Merck rose after the drugmaker announced positive results from a clinical trial for a lung cancer treatment. The stock led all the gainers in the S&P 500, climbing $3.41, or 5.8 percent, to $62.07.
Gold rose $2.20 to $1,337.10 an ounce. Silver added 5 cents to $17.19 an ounce. Copper was little changed at $3.22 a pound. The dollar fell to 110.30 yen from 111.09 yen on Friday. The euro strengthened to $1.2271 from $1.2181.
In other energy trading, wholesale gasoline slipped 2 cents to $2.06 a gallon. Heating oil lost a penny to $1.84 a gallon. Natural gas fell 7 cents, or 2.2 percent, to $3.13 per 1,000 cubic feet. Germany's DAX gained 0.3 percent and France's CAC 40 added 0.1 percent. London's FTSE 100 shed 0.2 percent. Tokyo's Nikkei 225 added 1 percent, while Hong Kong's Hang Seng jumped 1.8 percent. Seoul's Kospi rose 0.7 percent.