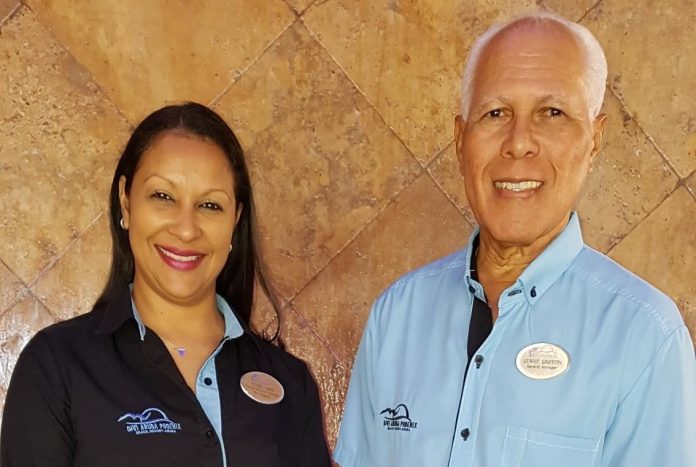 Pearl Lake takes over the position currently held by retiring General Manager Gerrit Griffith.
Divi Aruba Phoenix Beach Resort is proud to announce that Rooms Division Manager Pearl Lake will be the resort's next General Manager, effective August 1, 2019, taking over the position formerly held by Gerrit Griffith for 11 years.
"I am ecstatic to become the General Manager of the Divi Phoenix," said Lake. "My goal in life has always been to make an impact in someone's life by bringing out the best in them, helping them realize their full potential and assisting in developing their skills. This was always my focus as the Rooms Division Manager, but becoming the General Manager allows me to broaden this reach."
An Aruban local with a husband of 23 years, five children, and two grandchildren, Lake has over 20 years of hospitality experience with 12 of those years spent at Divi Aruba Phoenix Beach Resort.
"Pearl started as the Front Desk Supervisor back in 1999 and over the past 10 years has worked her way up the ranks, proving herself as a valuable member of the team," said Marco Galaverna, Divi Resorts President & COO. "As a local and one of our owners, members and guest's favorite managers, Pearl is the perfect fit for the position."
Lake is one of only a handful of female Arubans to hold the position of General Manager on the island and the second female General Manager at Divi Aruba Phoenix Beach Resort, after Astrid Muller.
"We are very proud that nearly half of our current General Managers are women," continues Galaverna, "she joins our two other female General Managers, on St. Maarten and Bonaire."
"As sad as I am to end my 43-year career with Divi Resorts, I leave knowing that Pearl will be taking over," said Gerrit Griffith, Divi Aruba Phoenix's retiring General Manager. "She's a strong leader with an upbeat personality and an eye for creating the best vacation experience for guests, so I know she will take great care of this beautiful resort."
About Divi Resorts
Divi Resorts is the vacation expert of the Caribbean, with a collection of seven premium resorts spanning the five stunning Caribbean islands of Aruba, Barbados, Bonaire, St. Croix, and St. Maarten. For more information on Divi Resorts, call 1-800-367-3484 or visit www.diviresorts.com.