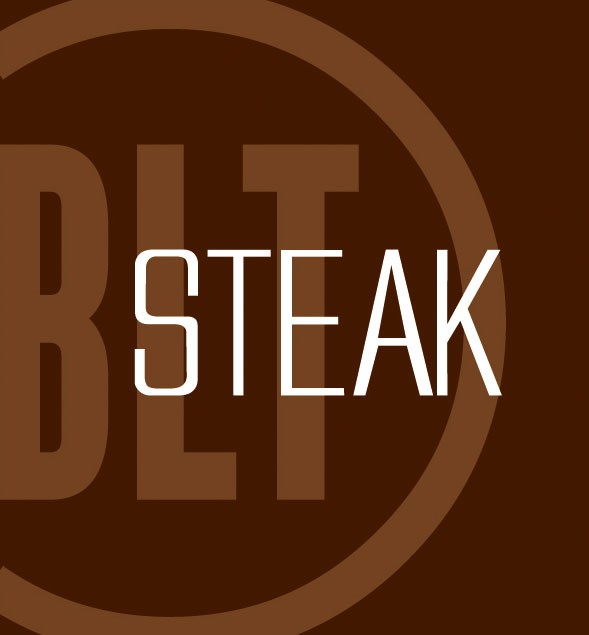 The Ritz-Carlton, Aruba is equivalent to heaven for foodies when it comes to their culinary offerings. This weekend you still have the unique opportunity to experience a taste bud tickling event: the exclusive 'Five -Senses Wine Pairing Tasting Menu'. In the elegant, stylish, classic-modern setting of the well-known BLT Steak restaurant you will be pampered like a royal. At the Ritz-Carlton, Aruba it is not only genuine attention you receive, but with this marvelous dinner, you will be taken to the next level.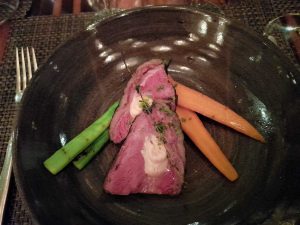 For $ 135 (including five superb wines) you are entering a gastronomic embrace starting off with the famous home-baked bread, the Popover of the luxurious resort, a true delight. Under the experienced eye of restaurant manager Wiebe de Roos the Ladies & Gentlemen of the Ritz-Carlton, Aruba will be serving you an appetizer trio including grilled oysters from Canada, slightly sweet and highlighted with a Jack Daniel's Chipotle-Herb Butter. The Sourdough Bruschetta is all the way chef-made and served with a local Burrata cheese and garden picked Heirloom Tomato. The Steak Roll is the third of the trio and honestly a gastronomic treat.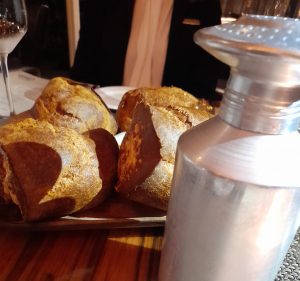 With the beginning of your dining at this upscale level the Ritz-Carlton, Aruba will keep going up and take you on a continuous journey to show you why they are a prestigious resort offering the best for the best. The main course is built up strong by three mouthwatering meats. Dry Aged Strip Loin, Wagyu Picaňa and Wagyu Tenderloin are paired perfectly with red wines from the house of Bodega Catena Zapata in the Argentinian wine area Mendoza. Baby Glazed Carrots and Grilled Asparagus accompany the cuts, prepared to perfection.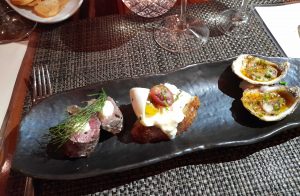 The tasting menu will leave you fulfilled as you are indeed diving into all your senses with not one, but three different magnificent meats for the main course. You might not have left any space for a sweet goodbye, but we do challenge you to indulge into the savory dessert of this menu: Sour Cherry Pistachio Mousse. We can only conclude that the Ritz-Carlton, Aruba takes it up a notch, as always, but this time taking you and your wallet by surprise.
For reservations please call: 5972049 or 5272222
Seating is limited; make sure you guarantee your participation.