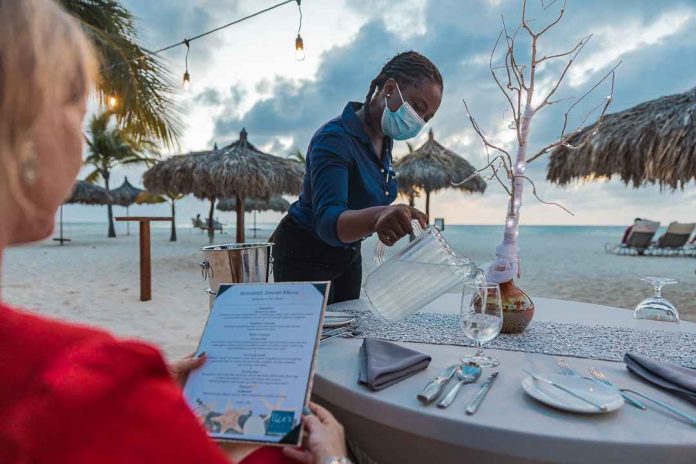 If you go to Aruba, you must dine on the beach, toes in the sand, loved one on the side and culinary treats in front of you paired with some bubbles. Unforgettable, that's what you are …Nat King Cole said it best. The title of the song applies to your partner, the setting on Manchebo Resort's beach and the food of famous Chef Sandro. Welcome to 'Dinner under the Stars' featuring you and her/him.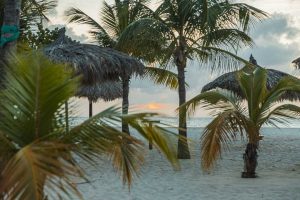 Escaping the cold weather to go find your tropical paradise is a wonderful thing to do. While mind mapping of this event, you include a romantic dinner on the beach, as you have seen it in multiple prospects of remote beaches, yes, that is what you want. On Aruba you may choose from different options but why not go for the number one beach; one of the best ones in the world: Eagle Beach.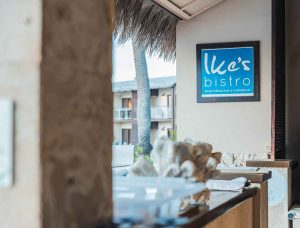 Ike's Bistro at Manchebo Beach Resort & Spa set up an amazing dinner on the beach. Picture this: you and your loved one walking to a dinner table decorated with subtle lights, the waiter pampers you all night long and you …… gazing out over the Caribbean blue watching the beautiful sunset with a sparkling wine in the hand. It all feels like the two of you alone in paradise. And this is only the beginning…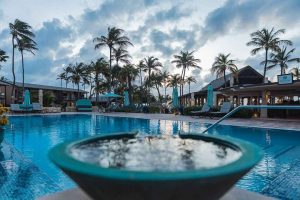 Appetizers are named "Romance in a Bowl" presenting a marriage of fresh lettuces, crumbled goat cheese, roasted almonds, grilled mushroom and homemade raspberry vinaigrette or "Temptation of the Sea," a delicious well-filled seafood chowder served with crostini bread, micro greens, paprika aioli & basil foam. The "Love Bird" main course carries corn-fed, free-range chicken; broiled and generously filled with honey cured ham and melted Gouda cheese, served with grilled zucchini and yellow squash, radish salsa, al dente linguini pasta and saffron-white wine sauce. Second choice for the main course brings on "The loving Couple" serving an amazing Caribbean lobster tail broiled in lemon-herb butter till golden brown and perfectly grilled filet mignon, served with garlic baby potatoes, steamed veggies and rosemary demi-glace. There is a third winner called "The Love Boat," consisting of fresh grilled catch-of the-day combined with jumbo green shell mussels, black tiger shrimp and calamari, served with mango-citrus quinoa, roasted red pepper and zucchini and white-wine-beurre blanc sauce. The love carries on in the dessert which is a Sweethearts of white chocolate Baileys mousse, fresh strawberries and hazelnut ice-cream. Coffee and tea close this wondrous feast.
The Romantic Dinner under the Stars is a special event and we strongly suggest you take advantage of this happening while it lasts. It is the whole spectrum in one night, all of the above including a bottle of bubbles for $160 per couple (taxes not included).
Call them at +297 582 3444 to reserve your table or contact them on Facebook: Ike's Bistro. Bon appetite!