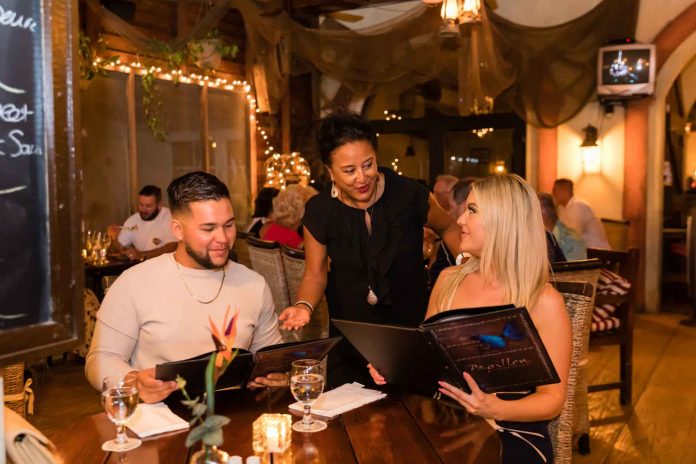 Papillon Restaurant located at The Village across the Hilton Aruba Caribbean Resort & Casino and within walking distance of all other major hotels, invites you to a French Caribbean culinary experience. The menu consists of classic French dishes with a local twist. Quality and Papillon Restaurant have been synonymous for over 10 years, as the restaurant is known to be the staple of French cuisine, perfected with seasonal highlights all throughout the year such as Asparagus, Mussels, Seafood September and Game Season.
For anyone unfamiliar to Papillon Restaurant and its concept; the restaurant is named after one of the most famous prisoners in the world, Henri Charriere, who was nicknamed "Papillon" because of the butterfly tattoo on his chest. The theme is in the details, and the ambiance is perfectly executed in the interior design. The casual atmosphere is cozy and intimate, while still in a lively surrounding environment. People watching has never been more pleasing than from the outside terrace.
While guests enjoy the ambiance, European influenced chefs take the lead in the kitchen, cooking creatively to create palettes reminiscent of colorful restaurants in the French Riviera. The new menu; full of mouth-watering plates; has its sharp focus on fresh ingredients, local produce and locally caught fish. Ultimately resulting in natural flavor palettes that are outstandingly good. In addition to the extensive menu of both classic and modern infused dinner options, Papillon restaurant is now also accommodating Vegans. Together with Meredith Marin from Vegan Aruba Papillon now offers classic dishes with a vegan twist to accommodate everyone's tastes and wishes.
No palette is complete without outstanding wine pairing options, allowing guest to choose from the extensive list of wines from all over the world such as the famous French Margaux and Pomerol, or delicious Italian and celebrated North- and South American wines.
Papillon Restaurant's team invites you to celebrate life, good food and great times at our French Caribbean home!
Make your reservation today at:
info@papillonaruba.com
or call +297 586 5400
Palm Beach – Across Hilton
Open Daily: 5pm – 10.30PM
For all menus and specials visit the website: www.papillonaruba.com.