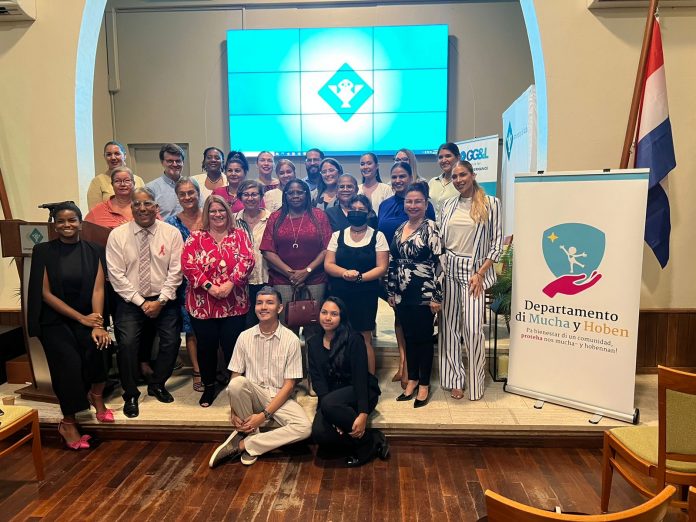 After continuing work on preconditions and completing preparations, expert of the University of Missouri-Kansas City Institute for Human Development (UMKC-IHD), Dr. Kelly Hantak is returning to Aruba and together with project leader for the Department of Children and Youth of Aruba (DMH), Anouk Eman, finalizing the first phase of the pilot project.
The goal of this project is to create the Early Intervention system for children with special needs in care centers in Aruba. After 18 months meeting with professionals from different sectors, who are also part of Early Intervention Platform Aruba (PITA), and in collaboration with them and the Aruban ministry of Social Affairs and Justice, the project arrived to an Early Intervention system, which will begin with a pre-execution trajectory in the care centers for children in Aruba in 2023.
Dr. Kelly and Anouk Eman are delivering the second offcial report at the end of December 2022 with all investigations done in the past 18 months, as well as the results of the assessments. Eman together with Dr. Kelly professionally evaluated at total of 12 children, using DAYC-2 assessment tool. This is a very popular evaluation tool used by American professionals, precisely for children ages 0-5 and 11 months, who have a possible delay in the following domains: cognitive, communication, socio-emotional development, physical development and adaptive behavior.
Seeing that up until the 28th of November, only 12 children will be evaluated, the result cannot still be generalized, but the results were presented regardless to minister of Social Affairs and Justice, Rocco Tjon, as well as PITA. The results are worrying, particularly in the area of communication. The final goal before December is to evaluate 30 children, a more representative quantity.
A high percentage of the 12 children visited a logopedist. This is a cost for the parents of about Afl. 130 for a one-hour session. The parents indicated that the children need to attend four sessions each month in order to see the necessary development, and this amounts to about Afl. 520 per month per child.
These numbers are cause for concern, seeing that this regards only 8 care centers for children in Aruba, currently taking part in the pilot project. This is the reason why in 2023 the idea is for all 120 care centers for children that registered voluntarily, to begin with the first phase of detecting if there are any concerns regarding development. The role of PITA together with DMG is to work together and structurally in order to try to give as much support, help and guidance as possible, to the children, as well as the parents and care centers for children.