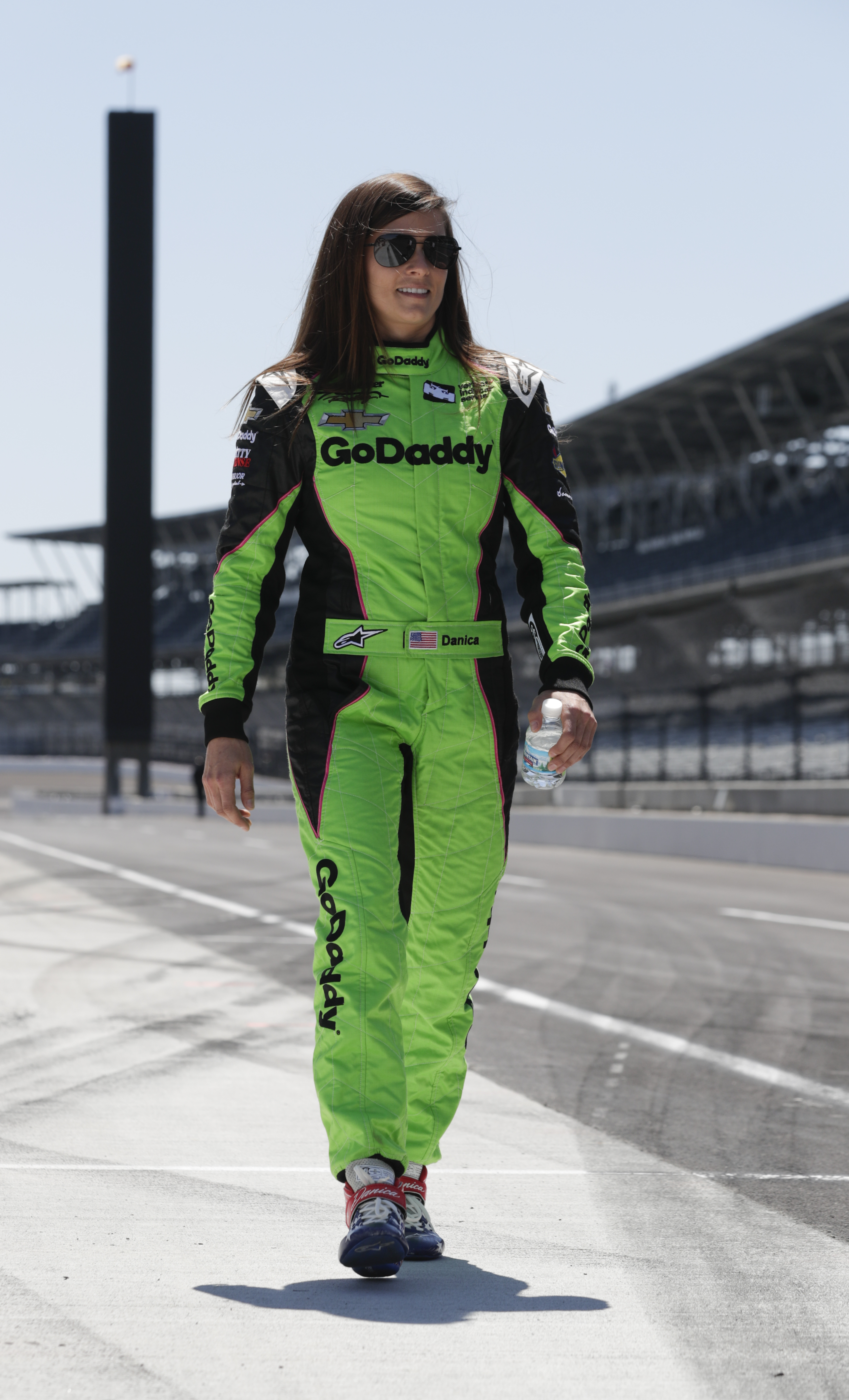 By MICHAEL MAROT
AP Sports Writer
INDIANAPOLIS (AP) — Danica Patrick's IndyCar comeback got off to a troubled start. That steering wheel — so heavy! And all those buttons! But after some quick reminders from team owner Ed Carpenter, Patrick passed the Indianapolis Motor Speedway's two-phase refresher course Tuesday after driving an Indy car for the first time in seven years. After topping 215 mph around the storied oval, Patrick can focus exclusively on attempting to qualify for the 33-car starting grid in the Indianapolis 500 on May 27 — her final race before she retires.
"It's been since the fall of last year that I've been thinking, what the hell is this going to feel like?" she said. "I've been waiting to get this day over with for a long time and I say that with love. It's just the level of anticipation and not knowing." The wait took longer than expected, too. She actually wanted to compete at Indy in 2013, her second year in NASCAR, but was talked out of it. She didn't contemplate a return again until last fall. Then, during the winter, everything seemed to be in place. Patrick was scheduled to do prep work in late March but poor weather forced organizers to push back the three-day testing session to this week.
Patrick had to watch Monday's practice and Tuesday's rookie orientation program before she took her neon green No. 13 Chevrolet car onto the track. Patrick sure didn't look or act nervous in the cockpit even though it was her first trip in an Indy car around the 2.5-mile oval since 2011. She was topping 208 mph within 20 minutes of taking her first laps at speed and was actually exceeding the 215 mph limit before completing the first phase of the course. Behind the scenes, it was different. "I think she's a little nervous because it's been so long since she's been in an Indy car," Carpenter said. "But I told her yesterday that I get nervous every year because this place is so special.
I told her I'd be more worried if she wasn't nervous about getting back in. She does have a lot of experience and although things change, the way you drive this race track stays the same." To stay calm, Patrick stuck her routine. As she started going through her pre-driving repertoire, more than a dozen reporters gathered round her pit stall to document everything from putting her long, black hair in a ponytail to getting buckled into her seat and pulling down the helmet visor so she could finally pull off of pit road four minutes after the green flag waved. Patrick said the hubbub reminded her of her first May at Indy, in 2005. She wasn't out long: Patrick returned to pit lane after one lap and climbed out of the car so Carpenter's team could fix a water temperature problem.
A little more than an hour later, she returned to the track did one more install lap and again pulled back onto pit lane for a brief chat with her crew. Twenty minutes later, Patrick was back in the pits because the car wasn't steering like she expected. "The car, it just felt very hard to drive," she said. "The weight of the wheel was very heavy for me, so I don't know what the heck I've been doing because I feel a lot stronger than when I was here before."
"The wheel is so heavy, that's really my biggest issue," added Patrick, who is among the fittest drivers in IndyCar or NASCAR. "It's just a different feel because stock cars have power steering." Patrick finally settled in, settled down and started driving like the fan favorite she was at this track during a six-year run from 2005-11.
Getting re-acclimated to a brand new Indy car didn't come easily. "You didn't see me come into the pits the second time when I was like, 'Shoot, where's neutral?'" Patrick joked. "I feel overwhelmed with enough other stuff that I wasn't really checking the rearview mirror, hitting buttons, moving stuff around. It's baby steps. You know, baby-stepping into Wednesday.
"But I did feel fairly comfortable at the end," she said. Patrick is the only woman to win an IndyCar race, lead laps in both the Indianapolis 500 and the Daytona 500, win the pole for the Daytona 500, and the highest-finishing woman in both iconic races. She left the IndyCar Series after the 2011 finale for a full-time move to NASCAR, but is closing her storied career at the track most associated with her historic moments.
She got backing for the Daytona 500 and the Indy 500 from longtime sponsor GoDaddy and Carpenter added her to his three-car team for the series' showcase event. To qualify and be competitive in the race, Patrick knows she must get become far more comfortable in her car.
"Riding a bike's much easier than that," she said. "I just want to be flat out and comfortable and making changes and feeling the changes. It, definitely for me, I forget it's not really Indy. It's just a test. We'll be back again in two weeks and that's when it really starts." Notes: Jay Howard and Sage Karam also participated in the refresher course and four drivers went through rookie orientation.