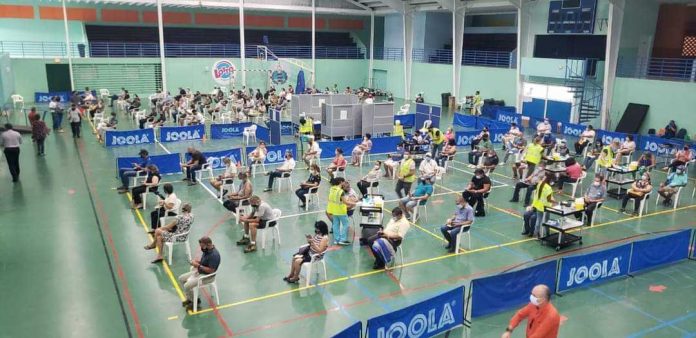 Rules and protocols are being reviewed and evaluated on a daily basis and adapted as per current situation by a crisis team, in order to protect each and every one visiting and residing our island.
Current numbers
There are currently 96 active Covid cases on the island. 85 residents and 11 non-residents. There are 9 persons hospitalized of which 6 of them are in the Intensive care unit. 101 persons lost their battle against the Covid virus of which 1 of them is a non-resident. A total of 142.422 persons have been tested of which 104.281 were tested at the airport. 56% of the total population have been vaccinated. Aiming for 85% of the total population by end of June 2021.
Measurement by the Government of Aruba
Valid as of Monday May 10th, 2021 until further notice.
Curfew is from 12 midnight to 4.30am.
Closing time for businesses is 11pm.
Max eight (8) per table indoors & max ten (10) per table outdoors (excluding children under the age of 12) Tables must be at least 1.5 meters apart.
During live performance 5 musicians are allowed to perform on stage.
No musical events that are intended to attract customers.
Background music is allowed/No dancing.
Hotels and lodgings are exempted from the closing time, BUT only to serve their registered guests between 12am and 4.30am.
Casinos are not part of the exemption and must close at 11pm.
There is no more public gathering ban but people must still wear masks and social distance when required.
Beaches and public parking lots remain restricted zones and nobody is allowed on them between 7:30pm to 4.30am.
More information on travel and health requirements can be found on www.aruba.com.