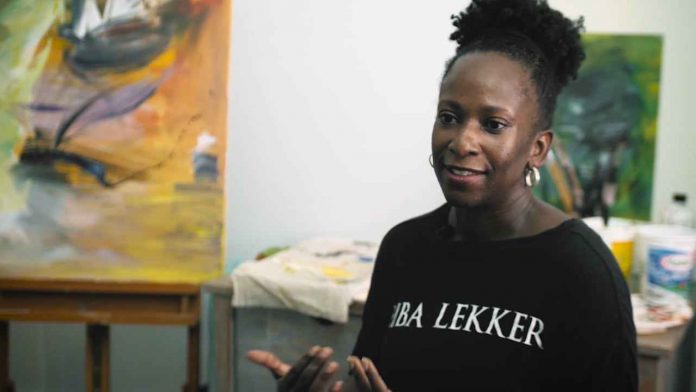 Cas di Cultura (Dutch: Cultuurhuis) is the home of the national theater, concert stage, exhibition and cultural center of Aruba, located at the 'Las Americas' roundabout in Oranjestad. Tonight will be the opening of the exhibition "Soca Art-Raise your voice!" by Aruban artist Sharina Gumbs.
Gumbs will be present during the opening of the exposition to show her art. The evening starts at 7pm and closes at 9pm, the exhibition will stay to visit until March 4th. This exposition forms part of an experimental pilot program about Visual Art projects at Cas di Cultura. The goal is to support this type of art on the island. The artist is open to connect with her public and explain about her art. Naturally all the necessary Covid-19 measurements including face mask obligation are in place here. Admission is free.
About the artist
"My aim is to passionately and intuitively reflect authentic identity and strength through colorful, fluid and expressive abstract paintings," Gumbs says on saatchiart.com. She was born in Aruba and immigrated to the Netherlands at the age of seven with her mother, brothers and sister.
Growing up with an absent father and a strong independent single mother of five, has in many ways influenced her development. As a child she was very introvert and in drawing people, found a way to express herself and give meaning to the world around her. "My interest in the human character led to an initial profession as a social worker and later an education in behavioral science (Orto pedagogy). For 20 years I have worked in psychiatric care, community development, drug- and alcohol care and child & youth welfare.
It wasn't until her early forties that I followed my childhood passion and started a part-time education in art (2009-2012)." At the same time she continued to work as a social worker, studied Orto pedagogy (2007-2012) and as a single mother had full-time care of her children. Needless to say that at some point she felt out of control and had to make a choice regarding the focus and balance in her life. What followed was a long journey of reflections on her values, relationships and authentic identity. A journey of choices.
In 2014 she returned to her island of birth (Aruba).
"On one hand my abstract artwork reveals a very colorful, dynamic and intuitive reflection on my own identity, life and (spiritual) development. On the other hand, there's a strong drive to reflect on my subjects. I use photos or do interviews as a basis for my abstract portraits. This way of working allows me to be a silent observer and listener in order to transform the energy that I feel, into an authentic (abstract) portrait."
On June 13, 2019 Dutch Culture-Minister Ingrid van Engelshoven awarded Gumbs with the Golden C 2019 as a project you have to experience. The jury chose (incl. Audience votes) for 'Re-fill your cup with authenticity' by the Aruban artist.q
For more information about the exhibition visit Facebook Cas di Cultura.