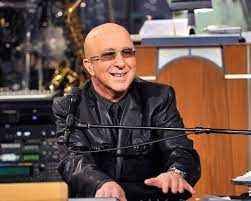 By Pablo Edwards
Comedian Aruba Ray Ellin has hosted and appeared on many television shows, acted in films, and – thankfully for Aruba – set up Aruba Ray's Comedy here on the island in April of 2013, bringing A-List talent to perform in standup comedy shows that he hosts. It is truly top caliber entertainment, and resumed last week in a safe environment. (www.arubacomedy.com)
But it wasn't until the pandemic happened that Ellin truly felt the healing power of comedy.
"After NYC went into lockdown in March, I thought it would just be a couple of weeks, and then hoped everything would pick up where we left off," said Ellin. "So I re-binged Game of Thrones and Little House on the Prairie – I know, my tastes cover a lot of ground – and ordering endless amounts of food delivery. But then I realized this wasn't going to end any time soon, and after talking to so many friends bored at home, I started doing comedy shows online."
Ellin didn't just turn on a webcam and tell jokes. He started a business called Comedy Cloud (www.comedycloud.co), doing interactive comedy shows on Zoom for companies who had employees stuck at home.
Since late April, he has produced over one hundred of these shows for finance companies, law firms, tech companies, shipping companies, even a pet store. "Every person watching was holding a different animal," said Ellin. "It was actually really fun. And only the monkey and a hamster had accidents on camera," he joked.
These online shows boost employee morale, connect staff that have been working remotely, and provide a much needed release, rewarding employees. It also gave comedians who had nowhere to perform an outlet, and a source of income.
"Not every comedian likes performing on Zoom. It's different, it can be tough, it's not for everybody," explained Ellin. "But I found some terrific comedians who have excelled at it. It can be A LOT of fun, for both the audience and performers. It is really interactive – everyone watching has a front row seat. And comedians have a short commute from their bed to their computer," laughed Ellin.
Ray also took his Aruba Ray's show that he did in Aruba, and started doing it on Zoom on Friday nights for fans of the One Happy Island. And he gave proceeds from the ticket sales to Happy to Give Back, the organization that provides meals for Arubans in need. "I know how much the island was hurting. They need tourism to survive, and it wasn't happening. So when I learned about Happy to Give Back, I did what I could."
Week after week, month after month, people from all over the globe – USA, France, Holland, Brazil, Aruba – would purchase tickets to watch Ray and his friends on Friday nights. Some were single, some married, and some watched as a family.
There was one couple, the Miltons, who watched every week side by side on recliners.
"Friday nights were our return to normalcy. We always loved watching Ray's shows live in Aruba; if we can't get to Aruba to see them, it was a real treat to watch every week online," said Gladys Milton. "It was something to look forward to."
"I live alone. I haven't had any social life since March. Ray's Friday shows were something to look forward to, to laugh and feel good," said Sandy Palmer, who lives in Miami. "I enjoyed seeing familiar faces in the crowd, and some new ones. Ray's Zoom shows have easily been the highlight of my year."
Sometimes very famous artists would stop by. On one show, Ellin had "Everybody Loves Raymond" star Ray Romano as a guest, who told stories and jokes and answered questions for over an hour. Another time, pop star Taylor Dayne stopped by and sang her smash hit "Love Will Lead You Back." And Paul Shaffer, who spent thirty-plus years on the David Letterman Show, appeared on Ellin's show and played piano and sang for a stunned crowd.
Now that Ellin has returned to Aruba – Aruba Ray's Comedy opened up on December 1st, in the Holiday Inn Ballroom, in a very large space with socially distanced tables, and masks and sanitizer – he put the Friday online shows on hold.
"I wish I could do both, but the timing of it just doesn't work. But the unbelievably kind emails and notes that I got, from so many people who watched those shows for months, felt amazing. I know what a hard time this has been for everyone. I know how hard healthcare workers have had it. I've lost family and friends during the last eight months. But you have to keep moving forward, and do your best, and just try to laugh and enjoy yourself as much as possible."
The other thing Ellin did during lockdown – we discovered online – was set up a fund for out-of-work performers in need. He did so quietly, without any fanfare, raising over $40,000, with generous contributions from celebrity comedians including Louis CK and Judd Apatow.
And how was it returning to the live stage, after months of performing on Zoom?
"I was beyond thrilled," said Ellin. "At every live show we have done in Aruba since December 1st – I haven't experienced a level of excitement quite like this ever before. The audience is SO HAPPY to watch a show in person. I am SO HAPPY to be able to perform in front of an in-person audience. The first show, wow was I rusty, it had been almost nine months since doing a full show live. But everyone was so enthusiastic – two guys – and this is completely true – two guys each tipped us $100 each after the show. I've never been tipped doing standup in my life! But the guy insisted. He blew me away when he said 'Please, take this. Please. You finally made us feel normal again.'"
Aruba Ray's Comedy is scheduled for shows in Aruba until April 1st. Check www.arubacomedy.com to purchase tickets, and to look at the amazing lineups of comedians, from every major television program. There is also an optional pre-show three-course dinner for only $35, including tax and gratuity, at Seabreeze restaurant. Also available on the website. All safety protocols are followed.