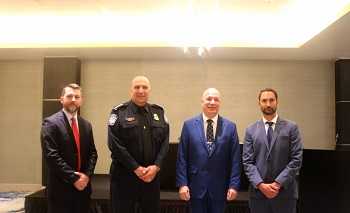 Recently the Minister of Justice mr. Andin Bikker signed a Letter of Intent with the Customs and Border Protection (CBP) of the United States.
The letter of intent contains three dimensions:
Minister of Justice mr. Andin Bikker and the US Customs and Border Protection signed letter of intent. The first dimension is the automated control and management system of the Aruba border that consists of Radex, online ED-Card, and soon the ESTA for Aruba. The systems will be connected to the Automated Targeting System of the United States. (https://www.dhs.gov/publication/automated-targeting-system-ats-update). The Automated Targeting System is an automated system that compares travelers, cargo, and transfer information, using data from law enforcement entities. They also do 'risk-based scenarios and assessments'. These will provide the local entities like Immigration Aruba, KPA, Customs, VDA, NCTVI, and DIMAS access to useful information in protecting the borders. For example, once they activate the ESTA for Aruba, the Immigration Department and the DIMAS will have access to use the database of the United States to operate the ESTA of Aruba. Customs will have more access to cargo and shipping information destined for Aruba.
One of the two parts of the agreement of principle is the use of 'biometrics' based on Article 22a of the Law of Admission and Expulsion (LTU). Biometrics helps in the tourist admission screening process, providing the authorities access to digital photos and fingerprints. It gives the authorities more valuable tools in the screening process to determine if a visitor will be admitted or not in Aruba. The efficiency in the screening process will get the visitors quicker out of the airport so that they can check-in at their hotel sooner and enjoy the beach immediately.
Finally, the letter of intent will grant Aruba more assistance in the validation process of official documents, like detecting counterfeit passports, etc. According to the Minister of Justice, the signing of this letter of intent with the United States marks a milestone since the United States is the main tourist market of Aruba. The Minister proposed and achieved a few changes in the LTU (AB 2018 no. 70) and the Admission decision (AB 2020 no. 94), to have a broader and modern legal base that meets all the international requirements and to be able to use modern technology in the screening at the border.
The primary goal is to have better screening and safety in addition to efficiency and speed for tourists to go through the control process as soon as possible, and to have the visitors on the beach as soon as possible after landing in Aruba.
Other agreements of cooperation will follow according to the Minister, based on the mutual interest to guarantee the safety of the travelers of both countries.q