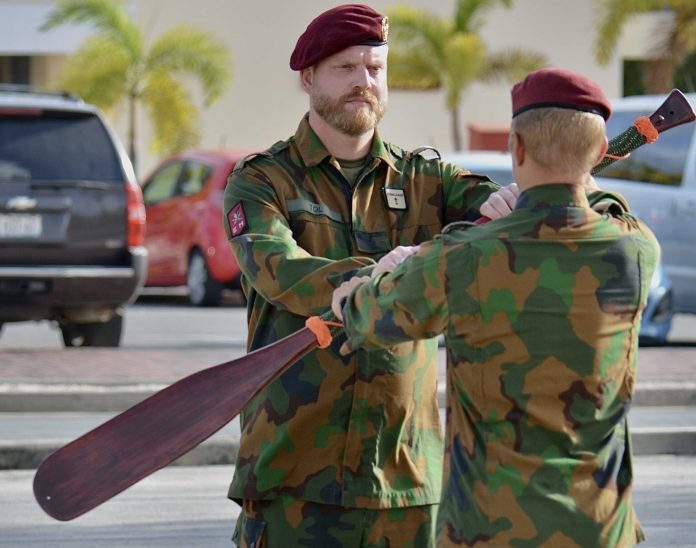 In a short military ceremony, Company in the West rotation 36 today handed over its tasks to the next unit, rotation 37. By means of the traditional paddle transfer, the new commander Captain Herman relieved his predecessor Captain Joost. Rotation 37 will also remain in the Caribbean for four months. The Company in the West (CidW) is a permanent unit of the Royal Netherlands Army in the Caribbean which can be used for a variety of tasks.
In addition to training, the departing unit has also provided a number of supports to local authorities in recent months. This includes helping to set up the vaccination street at Naval Base Parera where approximately 10,000 people have received their vaccination, but also supporting the KPC in enforcing the Covid measures. Supporting civil authorities is one of the main tasks for Defense in the Caribbean. Captain Herman: "We are looking forward to the cooperation between Defense in the Caribbean and the various government organizations of the countries. Also for the hurricane season, the new CidW, along with several other units of the Royal Netherlands Navy, will be ready and will, always at the request of the local authorities, leave for an area if there has been a hurricane passage and help is needed there."
CidW 37 originates from 13 Infantry Battalion Regiment Stoottroepen Prins Bernard (RSPB), a unit of 11 Airmobile Brigade. This company, the Alpha "Madju" Company is no stranger to the region. In 2019 she also had the task as a CLAS company in the Caribbean. The intention is that they train for the next 4 months on Aruba, Bonaire and Curaçao. Both units come from Assen and know each other from the barracks there.