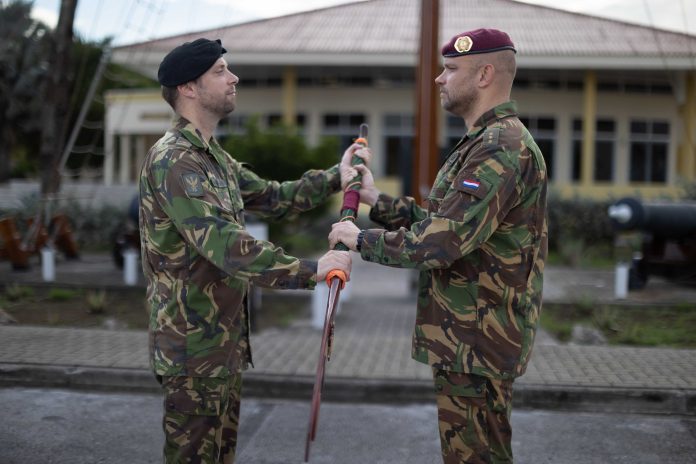 In a short military ceremony, Company in the West rotation 40 handed over its duties to the next unit, rotation 41. Through the traditional paddle transfer, the new commander Captain Martijn Huis in 't Veld released his predecessor Major Rian van der Meer. Rotation 41  will stay in the Caribbean Region during four months. This company, the Alfa 'Java'-company, is no stranger in the region. During 2017 she also had the task as Army Company in the Caribbean Region. They then provided assistance on Saint Marten, before, during and after hurricane Irma.
Mayor van der Meer looks back on a special period of time: " We had a fantastic time here as a unit. We were able to do what we came for and felt very welcome in this special part of our Kingdom."
In addition to training, the departing unit has also provided a number of supports to local authorities in recent months. Supporting civil authorities is one of the main tasks for the Ministry of Defence  in the Caribbean Region.  Captain Huis in 't Veld anticipates being able to train with his soldiers in the Caribbean Region: "The 'Java' Company is honored to, once again, be a guest in Curaçao. We are looking forward, to be able with our 'Can Do'-mentality, to provide support and assistance wherever necessary. Moreover we shall make good use of our period in Curaçao to train so that we remain ready for whatever deployment in the coming years.
CidW 41 proceeds from 12 Infantry Battalion Regiment van Heutsz, a unit of 11 Airmobile Brigade. The Company in the West (CidW) is a permanent  unit from the Royal Land forces in the Dutch Caribbean Region, which can be used for a variety of tasks. It is the intention that they will be training during the forthcoming 4 months, in Aruba as well as in Bonaire and Curaçao.