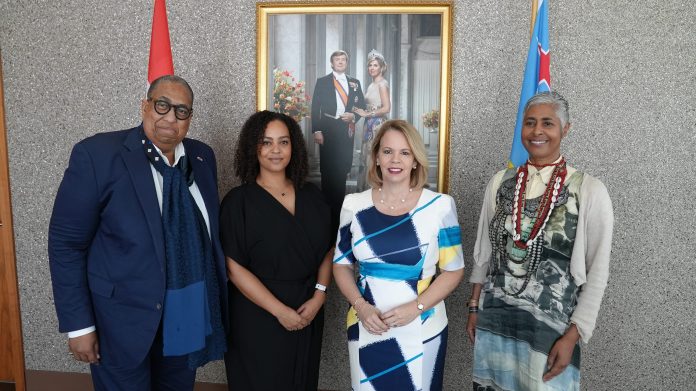 Prime minister of Aruba, Mrs. Evelyn Wever-Croes met with the commission appointed by the township of Amsterdam to introduce a National Slavery Museum. Mr. John Leerdam is part of the commission as quartermaster and in relation to the introduction of this national museum in Amsterdam, is visiting the Caribbean islands belonging to the Kingdom of the Netherlands as well as Suriname to meet people in these countries who are working on the subject of slavery in order to be in contact with them and receive more information.
Minister of Culture, Xiomara Maduro is currently in Curaçao to take part in a meeting with the Kingdom ministers of Education and Culture and thus could not be present at the meeting with Wever-Croes and Leerdam.
During the meeting, the Prime Minister received a book created by the township of Amsterdam and delivered to every citizen of Amsterdam, which contains a lot of information regarding slavery. This is in relation of the apologies offered by the township for the role that Amsterdam played in the history of slavery.
In Aruba there is a commission instituted under Minister Maduro which is working on this topic. By the 1st of July of this year, the idea is to present the plan which Aruba has been preparing. Slavery in Aruba is not a well-known topic, thus a very important point is to provide information and awareness regarding the history of slavery in Aruba so that our people and all those visiting our island can be aware of it. By knowing about the past we can have a better influence on our future, the Prime Minister expressed.
Concluding, Wever-Croes said that members of the commission were satisfied with the information received in Aruba and that there will be more meetings to continue giving more information, because the National Museum must reflect the point of view of what Aruba lived during the period of slavery.