PALM BEACH — In honor of Mr. Edgar Connor, master steelpan builder and founder of the legendary "Aruba Invaders Steel Orchestra" there will be a special event coming Saturday at the Paseo Herencia Mall. You will get the opportunity to hear a free concert created by Sweet Pan Music Productions.

From 2007 Paseo Herencia Mall has been honoring Mr. Edgar Connor with naming the main stage of the mall after him. Last year family Connor was ordered to work on a relief for the main stage of the open air theatre, created by artist Maritza Erasmus. This was also the first time the event 'Honor to Connor Steelpan Celebration' was organized, which will be repeated this year on Saturday between 7 and 9 PM. Marver Guedez is one of the musicians that will give acte-de-presence during the event, accompanied by Eltienne Yarzagaray.


He is only 15 years old and already plays several music instruments, he started playing steel band at the age of 10. The North Stars Steel Band will also perform and at the same time their founder Freddie Tromp will receive recognition for the role of the band in the world of Steel bands. Master of ceremony will be Ruben Garcia, who always has been a supporter of the Connor family too. The Connor brothers will be recognized for their contribution of the event, the production as well as the presentation.
Steel Bands played a significant role in the society of Aruba, mostly during carnival season. Introduced by a Trinidadian immigrant at the time of The Lago Oil Refinery, this type of music grew in popularity. Unfortunately nowadays steel bands are rare and almost a lost art. Be sure not to miss this special event and hear some pure music from the region.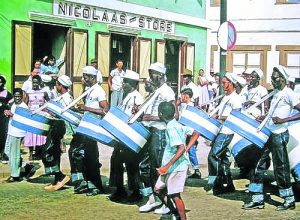 For more information please contact Paula Engelen at telephone 00 297 630- 6640 or email: myvoicemycreativity@gmail.com.