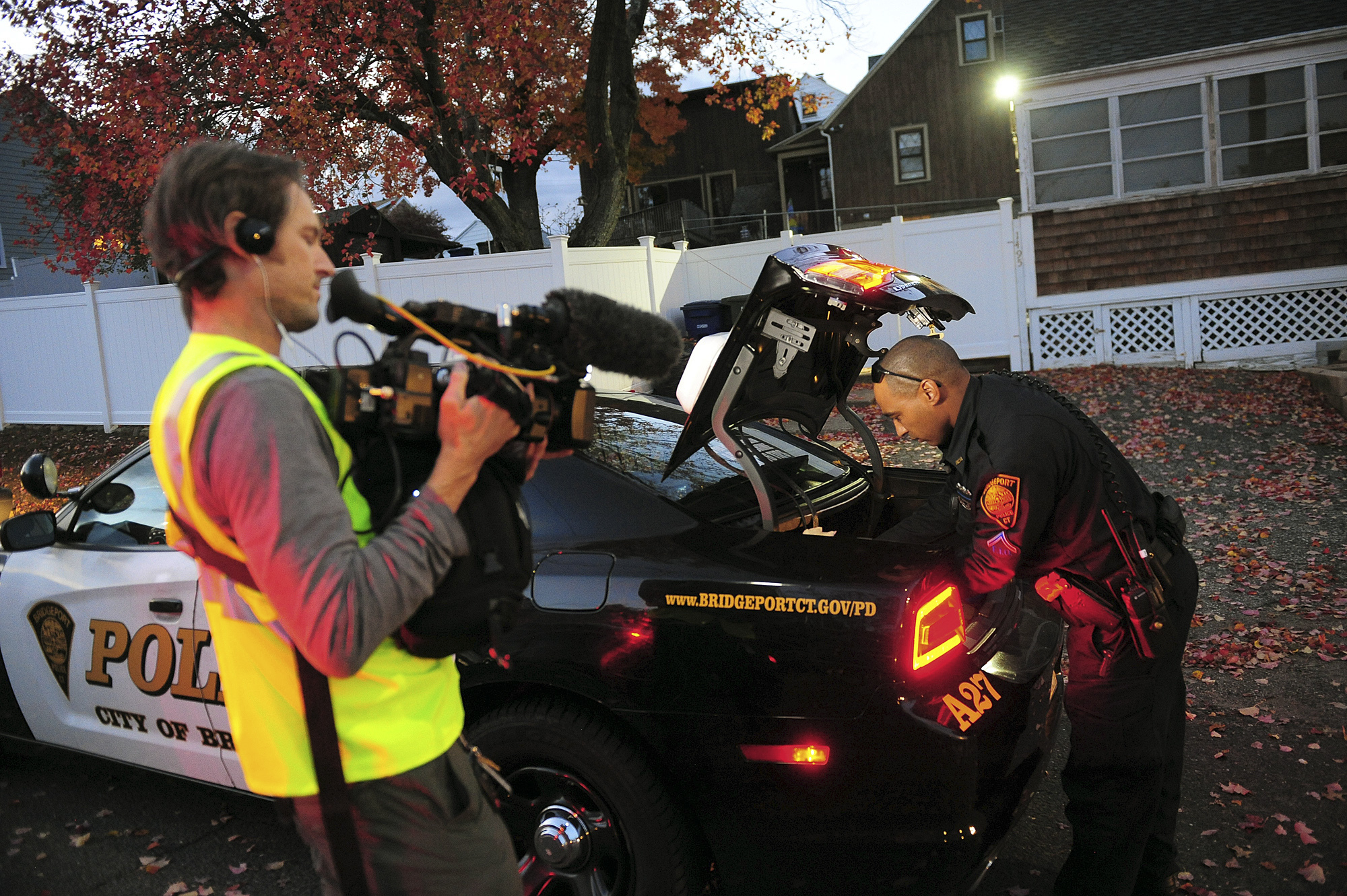 By DAVE COLLINS
Associated Press
HARTFORD, Conn. (AP) — For some of the law enforcement agencies that agreed to be on A&E Network's real-time police show "Live PD," the goal of being more transparent with their profession under increasing scrutiny clashed with concerns over public image.Police departments in Bridgeport, Connecticut; Tulsa, Oklahoma; and Streetsboro, Ohio, ended agreements to be on the program since it premiered in October 2016 as some local government leaders concluded the national spotlight on criminal activity overshadowed the positive things happening in their hometowns.
Another department, the Greenville County Sheriff's Office in South Carolina, ended its run on the show in August, saying deputies needed a break from the cameras. The show, which airs Friday and Saturday nights, has live camera crews following officers in several police departments as they patrol. There is a delay of five to 20 minutes to prevent the airing of disturbing content or the release of information that could compromise investigations, the show's producers say.
"As the debate over the policing of America continues to be a part of the daily conversation across the nation, Live PD viewers get unfettered and unfiltered live access inside a variety of the country's busiest police forces, both urban and rural, and the communities they patrol on a typical night," the show's website says.
In Bridgeport, officials were pleased the program showed the hard work and bravery of city police officers, but complaints started rolling in from businesses, the University of Bridgeport and others interested in attracting people and investments to Connecticut's largest city, said Av Harris, a spokesman for Mayor Joe Ganim.
"If that's the only thing that's being publicized nationally about our city, it can have a negative impact," he said. "We don't have the Travel Channel doing anything on how wonderful all our economic development projects are."
Bridgeport, a city with pockets of deep poverty that saw homicides double to 23 last year, left the show in December 2016, less than two months after the series began. During the city's short run on the program, a police sergeant was arrested on a domestic violence charge, which was later dismissed, shortly after she appeared on an episode warning viewers about the dangers of domestic violence. Two people shown on the show later filed lawsuits accusing police of brutality.
Another sergeant responding to a call involving a dead baby was shown breaking down in his cruiser as he talked about it afterward, which drew media coverage and praise on social media for showing officers' sensitive sides. Feedback from most of the two dozen police departments that have appeared on the show has been positive, said Dan Cesareo, creator and executive producer of "Live PD."
"Our only goal is to document policing across America," said Cesareo, president of Big Fish Entertainment. "We very much are very neutral in terms of what we're showing."
Concerns about the show appear to be mostly political and not coming from police officials, said Dan Abrams, the program's host. "Putting a lens on the day-to-day work that police officers do is important. And some of it isn't pretty," Abrams said. "I think the notion that it is a bad thing is actually the wrong way to look at it. … You can say that the crimes that occurred are bad."
In Ohio, Streetsboro police left "Live PD" in November after appearing in six episodes. Chief Darin Powers said that while it was good for the public to see what his officers do, there were manpower and overtime issues because officers with "Live PD" crews with them didn't have room in their cruisers to transport suspects. And local officials became worried about the city's image.
"I personally thought it portrayed our city in a negative light," said John Ruediger, city council president. "I think every city has its share of problems, and I don't think it's always best to highlight those issues. I was personally concerned that any kid featured on the show could end up bullied … especially if their parent is on the show doing something bad."
But in Jeffersonville, Indiana, where police have been doing "Live PD" since April, the public response has been overwhelmingly positive, said Assistant Chief Michael McVoy. "For us, it's humanizing the badge, No. 1," he said. "For every 1,000 positive comments or likes or social media hits or fuzzy, warm feelings we get from across the country, there are always five or 10 that say, 'Hey. Why are you arresting this guy for marijuana possession?' Stuff like that. Some people don't see eye to eye with what we do.