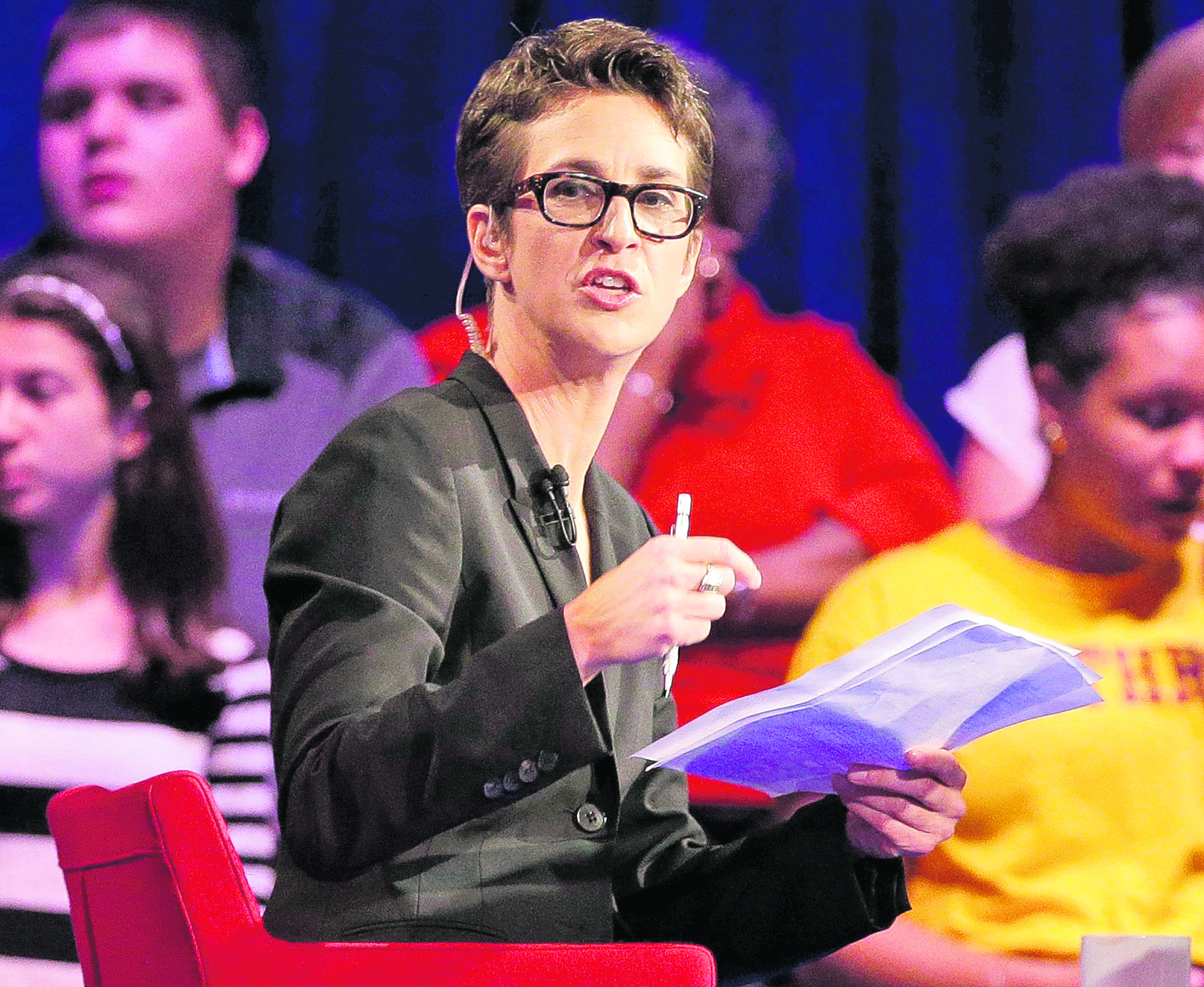 By DAVID BAUDER
AP Media Writer
NEW YORK (AP) — If Sean Hannity had been working in the 1970s, his Fox News Channel colleague Geraldo Rivera believes that President Richard Nixon would have never needed to resign because of the Watergate scandal.
It's not clear whether Rivera thinks that's a good thing; Fox refused to let him speak about his recent assertion on Hannity's radio show. But it does speak starkly to the power of Fox's most popular figure and devoted supporter of President Donald Trump at a time when the media's partisan divide seems wider than ever.
The point is driven home by the continuing coverage of special counsel Robert Mueller's investigation of Trump and, in the past two weeks, about the Republican-written memo on the probe.
Fox, CNN and MSNBC, which are now more political talk than news channels, have been consumed by the story. On the day the GOP memo was released, the different worlds they inhabit couldn't have been more clear.
"This is Watergate times a thousand," Hannity said, charging the FBI with deliberately misleading a federal judge. The "deep state," Hannity's term for government officials opposed to Trump, was undermining his presidency and democracy itself. The media, excepting him, have been sitting on the sidelines as the scandal unfolds, he said.
"This is so deep in its corruption that it should shatter the conscience of law-abiding American citizens," he said.
Flip over to MSNBC at the same time, and Rachel Maddow was laughing.
"That's it?" she asked. "That's all they got? That's what all the hype was about?"
Not only did the memo not live up to claims made about it, even by the president, it factually undermined the accusation that a dossier paid for by Trump opponents had triggered the investigation into the Trump team's Russian ties, she said. Then she turned to Fox, whose headquarters is across a Manhattan avenue from Maddow's studio.
"They have been hyping and hyping and huffing and puffing, working their audience up into a frenzy for two solid weeks," she said. "They have literally built a right-wing public movement that this memo must be released, because this memo will fix the Trump presidency, it will fix the Russian scandal for President Trump. It will make the whole thing go away."
David Gergen disagrees with Geraldo Rivera. The Harvard professor and CNN analyst worked in Nixon's White House and said his crimes were too serious to survive, and he had lost the support of the Republican party.
"The deeper danger now is that the erosion of trust and the paralysis in governing is threatening our democracy," Gergen said.
The press had critics in Nixon's day — his first vice president, Spiro Agnew, memorably skewered reporters. The difference is the criticism was coming from outside of the media, said Tom Bettag, a University of Maryland journalism professor and veteran television producer who worked at CBS News in the 1970s.
"There couldn't have been a Hannity in Nixon's time," Bettag said. "There wasn't an outlet with the reach that a Fox or MSNBC has that specializes in a specific political point of view."
Fox's opinion hosts are particularly effective in spreading their points of view and sometimes work hand in hand with the president. Hannity reportedly speaks regularly with Trump, the president watches "Fox & Friends" in the morning and often tweets reactions to their stories. There is time to emphasize talking points; the liberal watchdogs Media Matters for America counted 182 times Fox used the phrase "deep state" in December and January.
"Fake news" is Trump's epithet for stories he doesn't like; Hannity frequently criticizes the "anti-Trump media." In his monologue the day the memo was released, he said that "the media has been corrupt and lies to you, the America people. At the end of the day, they are nothing but propagandists."
Polls show the distrust in the media and other institutions pushed during Trump's time has had an effect. His supporters have remained steady, and suspicious. In an essay in New York magazine this week, Jonathan Chait explains how such "deep state" and "release the memo" talk can be successful strategically. For many Trump supporters, their man can't lose no matter what Mueller's investigation finds. If Trump is exonerated, that's to be expected. If he's accused of any crimes, many of his backers won't believe it.
There's no business incentive to change. Fox's appeal to conservative viewers has long made it a financial success. In the Trump era, the network has thrived despite crippling scandals with the loss of network chief Roger Ailes and personality Bill O'Reilly to sexual misconduct charges. Hannity's star was once fading at Fox, now he's the most-watched host in all of cable news.
Once mild-mannered and bow-tied, O'Reilly's replacement Tucker Carlson is winning with a combative style, as illustrated when he took on former mentor William Kristol, who hired him as a 24-year-old magazine writer. Kristol accused Fox of a "gradual increasing of recklessness" in promoting birther-like coverage of issues, and said Carlson exhibits an ethno-nationalism that is "close to racism."
Carlson responded by calling Kristol "a former intellectual who now exists primarily on Twitter. Kristol discredited himself year ago, which is why he no longer has a full-time job."
The veteran Gergen hopes, for the sake of the country, that things will simmer down.
"We've reached a point where we need to be, as organizations, especially careful in how we report and talk about the news and not be incendiary," he said. "We're in a delicate place now."