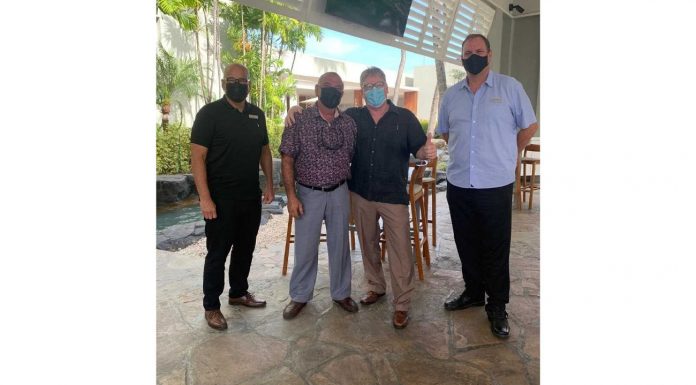 The Hilton Aruba Caribbean Resort & Casino hosted an informal celebration of culinary veteran Executive Chef, Matt Boland and Director of Engineering, Ramon Avila Perez.

Both Boland and Avila Perez will be taking their years of knowledge and experience and applying them to personal endeavours. Executive Chef Boland will be supporting his son Mikey in furthering his culinary aspirations, and Avila Perez will be reuniting with his family in his native home of Puerto Rico.
With extensive training in classic French kitchens in Paris, Boland's award-winning accomplishments and creativity earned him executive chef assignments at some of Aruba's major resorts, gaining celebrity chef status on Aruba. He shares he had the privilege to work at the Grande Dame of Palm Beach for eight years under the Radisson flag and for more than three years as the chief of the Hilton's culinary brigade.
Under his direction, the resort's famed steakhouse, Sunset Grille, became a AAA Four Diamond restaurant, one of only two restaurants to receive this achievement in Aruba. Boland has cooked at the prestigious James Beard House in New York City, "a career milestone for any chef," he says, and secured Hilton Aruba's restaurants' status as perennial traveler favorites.
Chief Engineer Avila Perez was internationally recruited to come and work in Aruba, and during his time on island – almost 4 years – he fell in love with the property and its Team Members.
According to General Manager Vasco Baselli, Avila Perez is "leaving the Grande Dame in great shape", fresher and prettier, having upgraded and refurbished many systems and procedures giving the iconic resort a renewed lease on life.
In his farewell notes, Avila Perez expressed great pleasure for leaving his beloved engineering department in the hands of a highly-qualified woman, Nephtaly Croes, who will oversee the departments' activities moving forward. Nephtaly is the resort's first female to lead the engineering department.
Both retiring department heads were presented with fresh flower bouquets, letters of appreciation and gifts at a small social distanced gathering at Mira Solo Lobby Bar, in the presence of their fellow Department Heads Glenn Farro, Director of Human Resources, and Vasco v. Baselli, General Manager.
Both Farro and Baselli thanked Boland & Avila Perez for their years of service, and wished them the very best on their new adventures, free to enjoy the fruits of their labor, children, grandchildren, and their hobbies.
Baselli spoke on behalf of the entire team. "I would like to express our sincere gratitude for the hard work and professionalism that you have demonstrated over the past years at our beloved hotel," he said. "Your commitment and dedication have always been an inspiration to your colleagues, supervisors and managers, who will certainly miss working with you. During your time at our hotel you have lived through many changes and challenges and have always risen to meet them while exceeding guests' expectations.  You represent what has always defined this resort, the warmth and genuine hospitality of its Team Members. As you start a new chapter in your life, we congratulate you, and wish to extend a heartfelt Masha Danki, for a job well done."