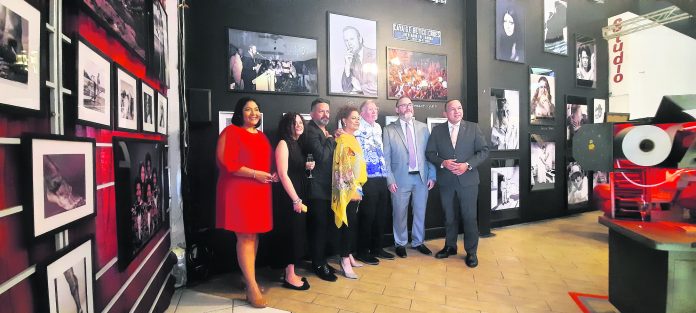 On Tuesday, the official opening of the exhibition "50 Years of Perpetual Light", honoring 50 years of existence of Checkpoint Color Aruba and its founder Mr. Rob Vermeer, took place at Checkpoint Color.
Natusha Croes, producer for this project, explains that the initiative started two years ago, and as one of Vermeer's youngest subjects, a conversation and collaboration was started where Vermeer showed Croes his photographs. "Right away I felt in my heart that it was due time for an exhibition", Croes said. And so the process began to digitalize all the negatives that Vermeer had stored. Croes says that boxes full of negatives were brought down for the attic in order to digitalize, scan, retouch and form a big collection consisting of more than a thousand photographs. Two hundred images can be appreciated in this exhibition, selected by Rob Vermeers son and current director of Checkpoint Color, Fernando Vermeer, who is in charge of the installation and exhibition.
As a producer, Croes says that she made sure to approach organizations like UNOCA – cultural fund that cofinances Art & Cultural Projects in Aruba – that helped with the printing of photographs, and Prins Bernhard Cultuurfonds that supported 11 documentaries and interviews with various models who worked with Rob Vermeer from 1972 until today.
"What people can admire today is a big collection of photographs showing the modern age of Aruba. Starting in 1972 until 2022, you can see various important characters in our history, like Betico Croes, Vale Croes, Felis Ras among other icons and bulwarks of the island, and you can see how Aruba developed during these past 50 years. It is a historical moment, a moment to applaud and we must be very grateful to be part of this moment", Croes said.
Mr. Rob Vermeer says that he established his business 50 years ago when he came back from the Netherlands and like many other photographers these days, began photographing weddings, families, children, etc. But he realized that a lot of people wanted color pictures, and because there wasn't a color lab here in Aruba, they had to send everything to Curaçao or the Netherlands, and that took weeks before they could get the photographs back. So he made the decision that a color lab was necessary for Aruba, but he didn't have the funds to buy the necessary equipment. He says that it was with the help of various organization and people that he was able to reach 100,000 florins, which back then was a lot of money, and bought all the equipment.
"I opened my business on the 3rd of august 1972, and the first client who walked in was one of the Eman brothers, who put 10 rolls of photographs in front of me to develop. That was a good sign, and from then I stared developing photographs and everything went smoothly. Eventually we opened seven different stores around Aruba in the hotel area, San Nicolas, Cura Cabay, Oranjestad, and we grew a lot", Vermeer remembers.
But with the digital era, cellular phones made an entrance and their business diminished, and slowly they had to close their stores, one by one. "This hurt me a lot, not for the stores but for the workers, because all the years we were working and we grew until we reached 40 years, they were family. A lot of the personnel were in our service for ten, twenty years, and it was very painful. But for us to survive, it was necessary", he said.
All the stores closed, and Checkpoint Color went in Columbusstraat and they started with fewer employees, until Fernando took his family business over.
"Fernando made Checkpoint to his idea, and still on the basis of photography, but in the front of the business he made a style of museum. Checkpoint is still used to develop and take pictures. Thanks to Fernando with his creativity we could live on in the future", Vermeer added.
During the opening, various ministers were present including the minister of Culture, Xiomara Maduro, who took the opportunity to congratulate Checkpoing Color for its 50th anniversary and Mr. Vermeer for his birthday. At the same time, she delivered a commemorative gift to Mr. Vermeer for his 50 years of work.
"Obviously we don't want to let such a special moment pass by without bring a piece of our heart, because what Rob did for 50 years, is capture and collect memories of our country", she said.