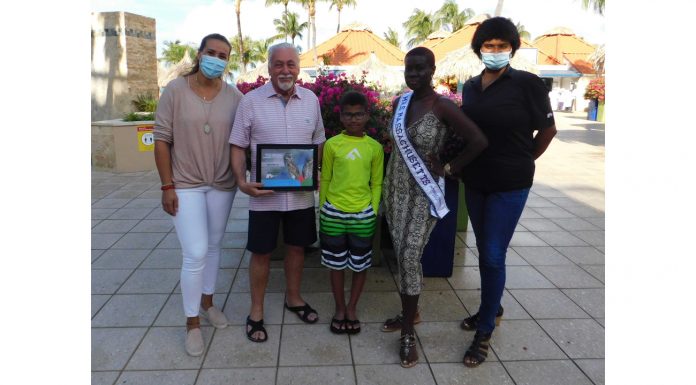 Recently, the Aruba Tourism Authority (ATA) representative, Marouska Heyliger had the great pleasure in honoring many loyal Aruba visitors with their distinctive certificates. These certificates are a way to say "Masha Danki" for continuously choosing Aruba as a favorite vacation destination. The titles are as following: 10+ years   "Distinguished Visitor", 20+ years "Goodwill Ambassador" and 35+ years "Emerald Ambassador".  
Charles Maclean from Massachusetts received the honorary title of Emerald Ambassador.
Maclean has been coming to Aruba for over 37 years. Throughout the years, Playa Linda Beach Resorts has been what he calls' his second home'. Together with his wife Cynthia Maclean, who happened to be Mrs. Massachusetts International 2022 and son, they enjoy every minute spend on their beloved island. The honoree stated that he loves coming to the island for its beautiful weather, friendly people and the beaches.
On the pictures are the honoree with his family, together with Yvette, representative of Playa Linda Beach Resort and Marouska of ATA.