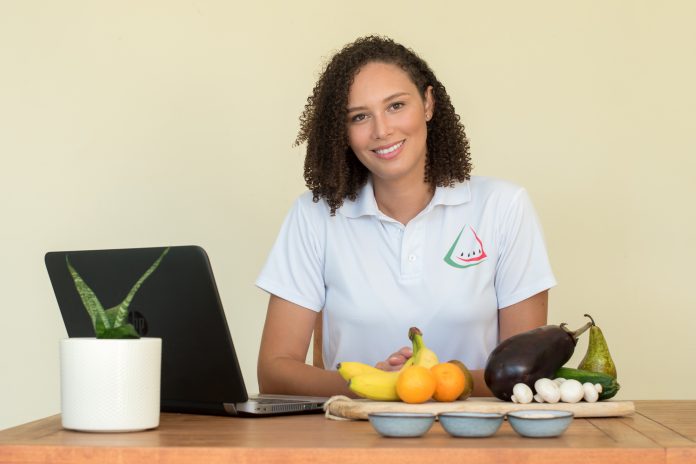 Charlene Leslie is a 29 year old with a goal, to have a healthier Aruba. Charlene is a professional dietitian, and recently was certified as a sports dietitian as well. She has her own practice, Alimenta Dietetics and Health Promotion, where she focus on the promotion of a healthy lifestyle.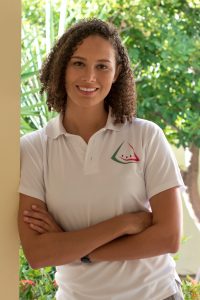 Charlene completed secondary school HAVO in Aruba when she was only 16 years old, and because of her young age, Charlene stayed one more year in Aruba, in order to explore her options and decide what would become the career that she wanted to pursue. "I completed the state exam in Biology VWO, and I started with Management and Organization and Economics as well because I didn't know precisely what I wanted to do. I thought maybe something related to management, but in the end really quickly I realized it was not something for me", she says.
"I knew I wanted to do something related to sport, and at first I thought to become a gym teacher, but I didn't want to become a teacher. I wanted to do something related to sports, but I didn't want to become a teacher. After that I thought about physiotherapy, but that wasn't an option for me either. Then I looked into the option to become a sports dietitian, to help athletes with food, and then I thought that would be perfect for me because it is in the world of sports."
In 2010, Charlene went to Nijmegen in the Netherlands where she studied Alimentation and Dietetics, which she completed in 2015. She came back to Aruba that same year, and meanwhile, she started a masters course online in Epidemiology and Public Health.
Ever since she was young, Charlene practiced athletics, and up until the moment she went to the Netherlands she was active in the world of athletics. Even in the Netherlands she practiced the sport as well with the team at Nijmegen.
In 2007, Charlene spread her wings a little further and took part in the local competition, Aruba Model Search., From there, a few years later, she took part in the beauty pageant Miss Universe representing Aruba. "Through my friends who motivated me to take part in Aruba Model Search I said, why not. And once you're in the world of modeling, the world of beauty pageants is connected to that", she says. "The world of beauty pageants wasn't really my world, but the person who always helped me, Endy Croes, every year would ask me if I wanted to compete in the pageant, and I would always say, absolutely not!"
"When I came back from the Netherlands, I saw the latest Miss Universe at the time, who was Pia Wurtzbach from the Phillipines, and another one who was first runner-up for Miss USA, who looked like real people, who were beautiful on the outside but were more beautiful on the inside. This is what changed my mind, and I decided to give it a try, and it was a unique opportunity. Finally I went all the way to the Philippines for Miss Universe, and that was a beautiful experience. I wouldn't do it again, because I realized indeed that it's not my world, but while I was there, it was a beautiful experience", she says.
Charlene says that during her third and fourth years of study, she had to do various exercises for example with a client in front of her and had to practice giving a consultation. In that moment she realized she liked this, but she found other areas more interesting, like projects and tasks she had to complete, like how to make a community change its habits. From there she realized that health promotion was what she found really interesting.
"When I came back from the Netherlands, I didn't want to work in consultation, I wanted to work in health promotion. But I didn't get an opportunity to work in that area, thus I decided to open my dietitian's clinic in 2016. By the end of that same year I got a job in IBiSA in health promotion, and in 2018 when my contract at IBiSA ended, I went back to consultation." In 2021 she got the opportunity to work with the Diabetes Foundation of Aruba on the PRISMA project, and from there, more projects presented themselves. She had her clinic still, but she combined consultation with various projects. "There isn't a regular day for me. Each day is different and that is precisely what I like about my job, that it's not a day from morning to afternoon in consultation, there's a lot of variation", Charlene said.
A big problem for the population of Aruba is the numbers of overweight and obesity, which Charlene explains, together these count for almost 80 percent of the population and this is a very high percentage. She explains that even though there are a lot more people that are aware, a lot more people are active, a lot more think about what and when they eat, what she finds worrying is that there are two extremes. "You have people that are active almost every day, who eat very healthy, and that is great. But on the other extreme, you have people who do not eat healthy, eat a lot on the go, maybe drink a lot of alcohol, and are not very active", she said. "But actually in the middle, where healthy eating is normal, with regular activity without a lot of pressure, where healthy eating and lifestyle is normal, you barely see that. It is here where we need to work to help these people, so they can be a bit more aware and start with small steps towards a healthier lifestyle."