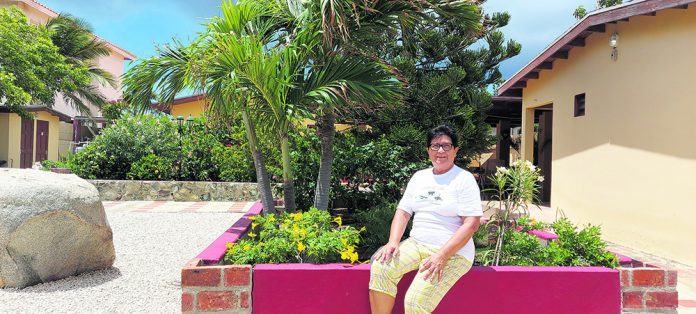 Love for nature, be it for plants that give flowers or fruit, is what Carmen Tromp feels. Every day she makes sure to keep her backyard beautiful and full of life.
Carmen Tromp, a retiree who welcomed our reporter with a smile on her face, to come into her house and share a pleasant moment, share with us that many years ago, when she bought her house, she wanted to have a backyard filled with nature.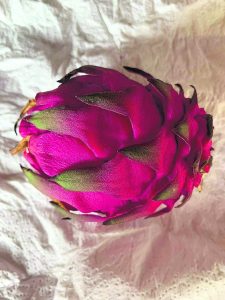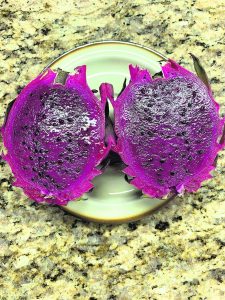 Years later she expanded her property, and the yard started growing her plants, but some of them during the course of time died or got disease. "You have to check your plants so that they don't become infested with ants, or eaten by iguanas. You have to be aware of them also", she says.
From a young age, Tromp and her family grew up with plants and cunucu – small personal plantations. Now that she is a retiree, every morning that she has time she surveys her backyard to see what is good and what needs maintenance, so she can know where to give attention. She says that nature makes her happy.
Tromp explained that she gives her plants vitamins as well as the soil that they need to receive regularly, because there are some plants that need more attention, so she has to buy various tools to take care of them, as well as providing enough water.
During rainy days, Tromp says she collects rain water in tubs, and she uses this because water in Aruba is very expensive. She says that during a dry month without rain, she can spend even 500 florins (around $300) on water alone. She says her yard is a big investment of time and money, because she buys plants, but she also has to buy special bags of soil, pots and other items every month. "If I see a beautiful plant or pot, I buy it. You keep investing in your property, and in the end, same as with everything else, you have to invest first to receive pleasure and happiness later."
Tromp also told us that she completed various courses during which she received basic informacion on how to take care of plants, and what kind of plants are good to grow on Aruba. She also met other people who share information with each other on social media, who exchange ideas. For example, on Facebook she is a member of the group 'Pasa tempo den cura' – spend time in your yard.
"This is how you get ideas. When I take plants out, I publish on Facebook to see if anyone is interested to pick them up, or sometimes there are people who bring plants too", Tromp said.
A publication which gained attention was one in which she planted a dragon fruit. She commented that first time she got dragon fruit it was red inside, this is one of the variations of this fruit. She said she received some tips on how to care for the plant in order to get more fruit from it. Dragon fruit is one of the fruits that she was most awaiting, because like she said, the price for this at the supermarket is very high, which is why she decided to grow it herself and have the fruit at home.
"I'm going to exchange and see if I can find the white (dragon fruit) and give the person the red one", she said.
About which kind of plant she loves best, Tromp says: "I love both. I love flowers to look at, fruit and vegetables that I have like peppers or pumpkin that I share with family."
Tromp says a lot of people could also try planting something at home. Before, a lot of people had a small patch at home where they would grow food, but now that tradition is slow. However, since the Covid-19 pandemic came about, some people decided to start growing food in their backyards again as a hobby, particularly during shelter in place.
In Aruba there is some fertile soil that according to Tromp, no one is doing anything with. "If we could form a sort of neighbors cooperative, and everyone puts a little money towards it, we could use it and have our own produce."
Finally, our reporter noted that most of her yard is already full of different types of fruit, like mispel, sour sap, plum, papaya, dragon fruit, coconut, as well as vegetables like various peppers and pumpkins.