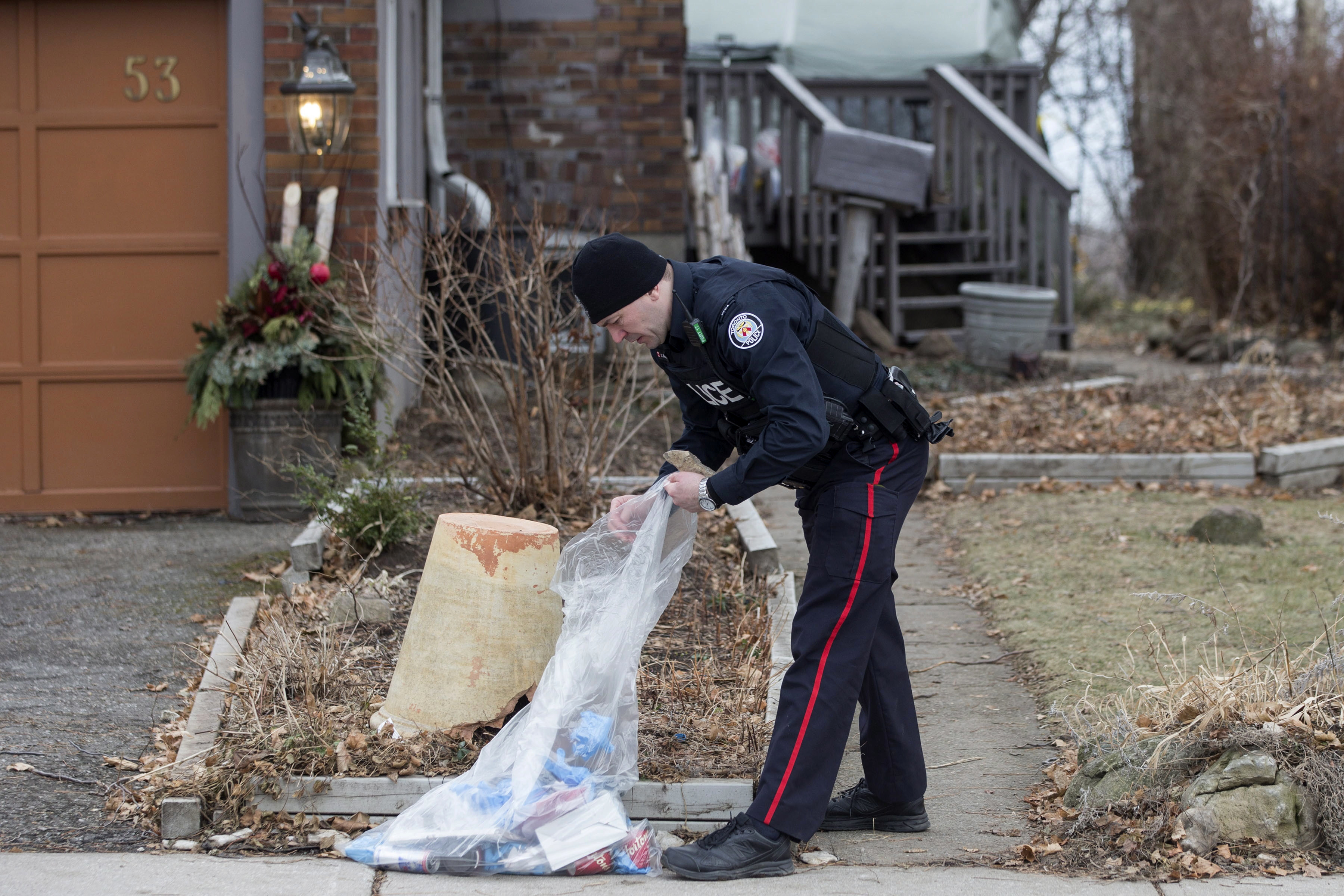 By ROB GILLIES
Associated Press
TORONTO (AP) — Vian Ewart quickly figured out why police showed up at his elegant town house with a cadaver dog to search the waist-high stone planter at his doorstep.
Ewart had for five years hired a burly landscaper named Bruce McArthur, who is suspected of being a serial killer, and police have set out on a grim search for clues that may be hidden across Canada's largest city.
Like other clients of the landscaper, Ewart finds himself struggling to comprehend how the man who tended his planters and gardens could be someone the police say violently preyed on his sexual partners and killed at least five men over the span of nearly a decade.
"I can't put the two together," the 75-year-old Ewart said Wednesday, three days after the police visited his home.
Many others in Toronto also find it hard to reconcile the accusations with their image of McArthur, a father of two adult children who occasionally worked as a Santa during the holidays at a Toronto mall.
"He looked all so normal and business-like," said Parker Liddle, who lives near a home in uptown Toronto that McArthur used as storage for his landscaping business and often saw him dropping off large planters. "To know that something as macabre as this was transpiring over the years is pretty astounding."
McArthur was arrested Jan. 18 and charged with two counts of murder in connection with the disappearance of Andrew Kinsman and Selim Esen, two men last seen in the "Gay Village" district of Toronto.
On Monday he was charged with the murders of three more men and police said they were on a wide search for other possible victims. "This case is in its infancy. I'm not going to comment," said Edward Royle, a lawyer for McArthur, who is due back in court on Feb. 14. He has yet to enter a plea.
The lead investigator said the remains of at least three victims were buried inside two large planters and authorities were checking at least 30 other places where McArthur was known to have worked, including some of Toronto's wealthiest neighborhoods. Police said they expect to find more remains in the 12 planters they've retrieved.
Investigators also plan to also excavate part of the lawn at the home McArthur used as storage. Police have set up a tent and heaters on the property to keep the ground from freezing. Investigators have not yet released complete details, but the 66-year-old McArthur is believed to have met his victims cruising around the city in the van he used for work and on gay dating apps for older and large men with names such as "SilverDaddies" and "Bear411."
In his SilverDaddies profile, McArthur described himself as 5 feet 10 inches tall and 221 pounds and primarily interested in younger men. "I can be a bit shy until I get to know you, but am a romantic at heart," he wrote. On his Facebook page, he posted pictures of his cats, children and grandchildren and of himself dressed as Santa Claus. But at least one acquaintance recalled a darker side.
Peter Sgromo, a 52-year-old part-time university teacher, said he met McArthur through an acquaintance who attended a support group for gay fathers with the landscaper. They had known each other for about 10 years when he agreed to meet McArthur at a bar in the Gay Village in April.
After some drinks, Sgromo said, McArthur led him to the back of his van, which was empty except for a single seat in the back. The two started to have sex and at one point, Sgromo said, the burly landscaper suddenly grabbed him by the neck. "He was seconds away from snapping it," he said. "I really thought my neck was going to be snapped the way he twisted it."
Sgromo, also 5 feet 10 inches and about 225 pounds, said he grabbed the other man's elbow and ended the encounter. He didn't report the incident to police. But after learning of McArthur's arrest he talked to an investigator. "I never thought of Bruce as a rough sex guy. I thought of him more of a gregarious jolly guy," he said.
In 2003 McArthur was convicted for attacking a man with a metal pipe in Toronto. The sentence required that he abstain from using the drug poppers — or amyl nitrite — not be in the company of male prostitutes and stay away from a section of the downtown that included the city's Gay Village for two years.
The five homicides would make McArthur the most prolific known serial killer in Toronto. The other three known victims are 58-year-old Majeed Kayhan, who went missing in 2012, Soroush Marmudi, 50, who went missing in 2015 and Dean Lisowick who went missing between May 2016 and July 2017. Police said Lisowick, who was in his mid-40s, was homeless, stayed in public shelters and had not been reported missing. Kinsman, 49, went missing last June and Esen, 44, was reported missing last April.
Police are looking over a number of missing person cases and trying to determine if they were victims of McArthur. They are also running down tips that have come in from around the world in what lead investigator Det. St. Hank Idsinga has called a case like Toronto has never seen before.
"We believe there are more," Idsinga said of the victims. "I have no idea how many more there are going to be.