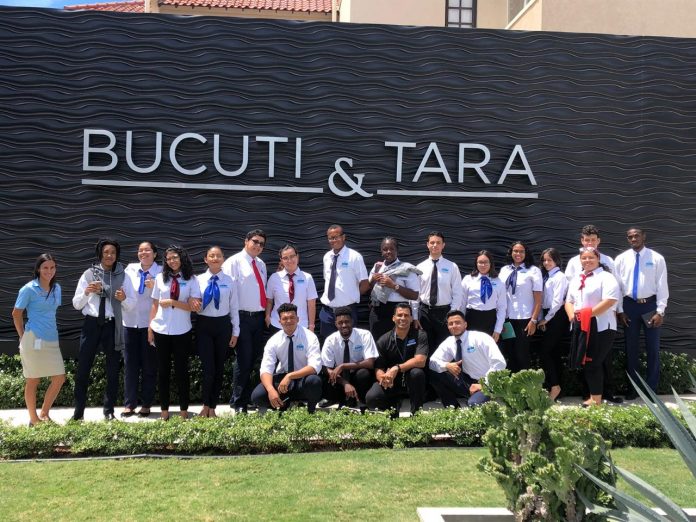 Sept. 25, 2019 – Observing and honoring the United Nations Climate Week, Bucuti & Tara Beach Resort, long time stewards and green leaders for associates, guests and the local community, is engaging in a host of hands-on activities at the Caribbean's first and only certified carbon-neutral hotel.
Last Tuesday they held the EPI Student Tour: Sustainability Manager Nathaly Stanley gave a tour and presentation to 22 EPI students from the tourism sector. Students learned about Bucuti & Tara's mission and company culture of operating sustainably in order to maintain Aruba's beauty, flora and fauna for future generations. Students received a tour of the facility followed by a presentation detailing the program.
"The passion driving the program at Bucuti & Tara is impressive," shared an EPI student.
"Many were surprised to learn how extensive the Bucuti & Tara sustainability program was and how celebrated it is in the Caribbean and worldwide" said Nathaly Stanley. "As an organization we prioritize stewardship and education to broaden our impact through motivating others to action",
Others were impressed by Stanley's passion who urged the group to do something, no matter how small, every day that could help reduce their own footprint.
On Thursday, September 26, they held a Movie on the Beach – Climate Week Edition: In addition to the traditional Wednesday and Saturday Movie under the stars at Bucuti & Tara, the resort added a special showing to drive awareness for Climate Week. The acclaimed Emmy winning "Our Planet" narrated by Sir David Attenborough will play at 8 p.m.
Today, Friday, September 27, Kibrahacha Aruba Climate Strike: Bucuti & Tara Beach Resort staff have been given time off to participate in the climate strike planned at Club Kibrahacha as part of and in support of the Global Climate Strike planned alongside the UN Climate Week attended by teenage Swedish activist Greta Thunberg.
"Path to Carbon Neutrality": Presented by Sustainability Manager Nathaly Stanley, she will conduct a 30-minute overview presentation on-screen in the Tara lounge on Friday at 4 p.m. about how the resort became the first and only carbon-neutral resort in the Caribbean. She'll cover the more than seven years of investment, passion and company culture of sustainability leading up to the effort that made this rare and important certification possible.