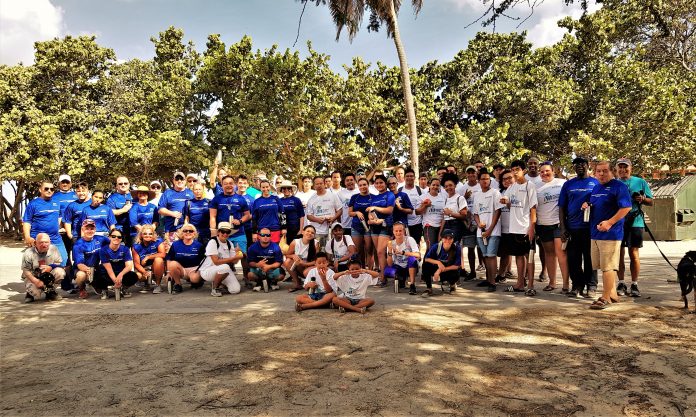 Bucuti & Tara Beach Resort proudly participated in this year's AHATA Coastal Clean-up. Over 60 participants included staff and management, guests and EPI students of Ciencia y Tecnologia.
Every year during Ocean Conservancy's International Coastal Cleanup, hundreds of thousands of volunteers comb lakes, rivers and beaches around the world for trash. For over three decades, more than 12 million volunteers have collected over 220 million pounds of trash.
This year, as part of this worldwide effort, AHATA organized it's 18th Annual Coastal Clean-up Day with 800 participants cleaning 14 different locations of Aruban Beaches and shore line.
"In addition to maintaining pristine, natural beaches for the community and tourists to enjoy, it is important for wildlife that trash does not impede their survival. If a hatchling turtle should walk into a plastic cup or other debris on its way to the ocean, it may not survive. Conditions prior to the cleanup on the northcoast made this scenario likely" explains Sustainability Manager Nathaly Stanley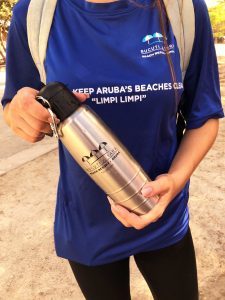 All students and teachers received a signature Bucuti & Tara Beach Resort reusable water canteen as a gift for their efforts, a gift that is made available for all guests at the resort to eliminate the use of plastic bottles.
"At Bucuti & Tara Beach Resort we feel it is our responsibility to help clean-up our beaches. In Aruba we are in the nature business, because without our beautiful natural surroundings there would not be any tourism", says Ewald Biemans, owner/CEO of Bucuti & Tara Beach Resort.
Every third Wednesday of the month for 24 consecutive years, Bucuti & Tara conducts a beach clean-up on Eagle Beach where guests enthusiastically join management and staff to contribute and give back in their appreciation for their Aruban experience. "We hope our actions, AHATA's actions and the world's environmental preservation movements set an example for our community to appreciate Aruba's natural beauty as a precious gift that we must preserve for all of our future generations." States Biemans.