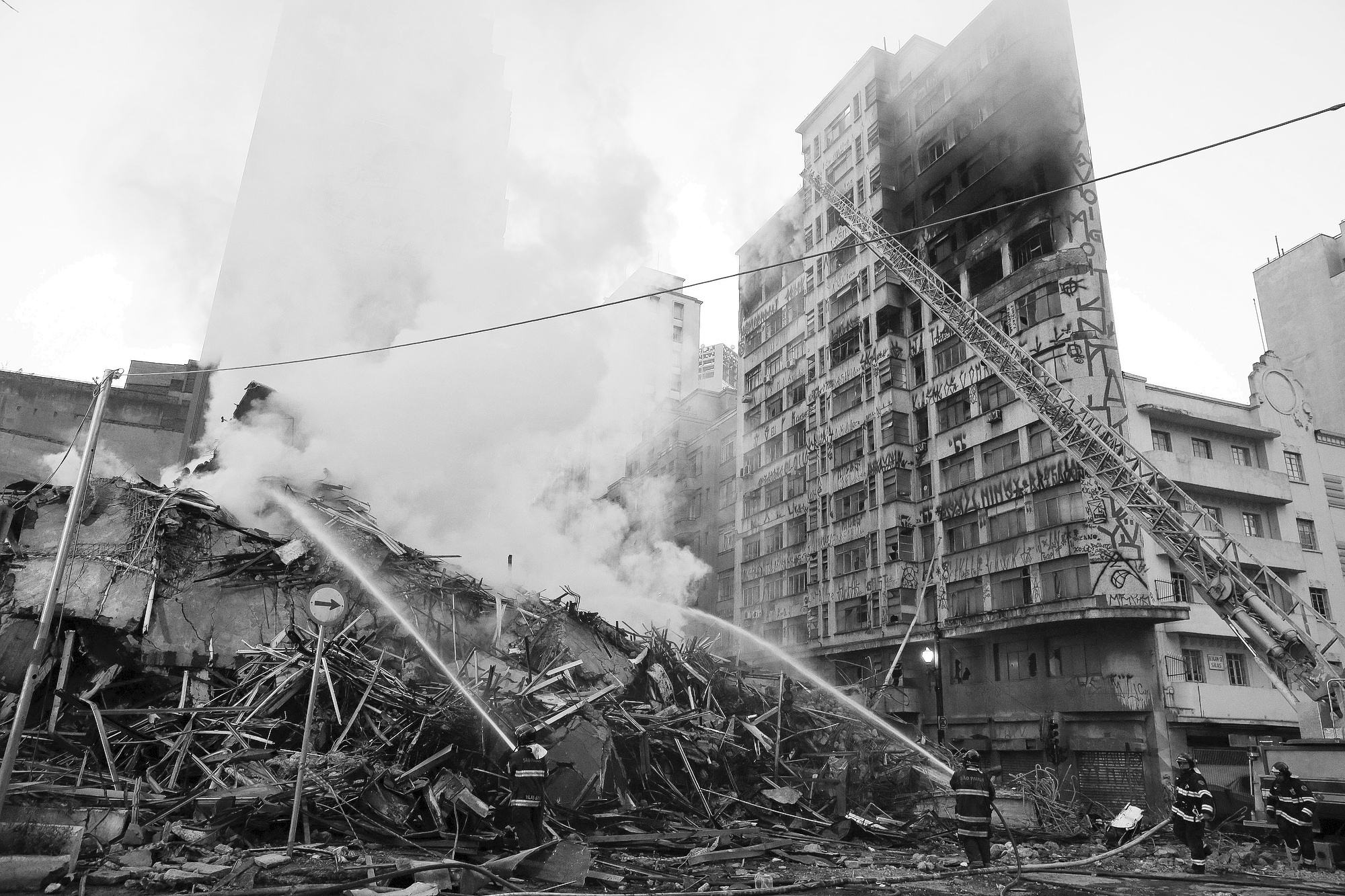 By SARAH DiLORENZO
and PETER PRENGAMAN
Associated Press

SAO PAULO (AP) — They just needed 30 seconds more, a firefighter sergeant said. He had thrown a rope with an improvised harness to a man hanging from a burning building in Sao Paulo's old downtown, and the man managed to secure his leg and shoulders. But just as the sergeant's team was ready to tug the man away, the building collapsed like a pile of dominoes, pulling the man into a cloud of red-hot debris.
Brazilian TV broadcast Tuesday's dramatic rescue attempt and the collapse of an abandoned government building that had been occupied by squatters. By the end of the day, only the man whose rescue failed was believed dead. Firefighters and dogs were continuing to search the smoldering rubble — some of which was still too hot to walk over — for his body and any other victims. No firefighters were hurt. "Of course, it's impossible to not be emotional," firefighter Sgt. Diego Pereira da Silva Santos later told reporters. "It was a victim, it was a person who needed help, who shouted for help."
The sergeant described how he and his team climbed onto the roof of a neighboring building — using axes to gain access. He said he urged the man to be calm, to look only at the firefighters, to try to ignore the blazing heat coming from the fire. "He was secured, he was ready," Santos said. "The problem was the building collapsed and the amount of rubble and hot embers that fell on him." The building, a former federal police headquarters, caught fire around 1:30 a.m. and firefighters worked to evacuate people. Less than two hours later, the 25-floor building collapsed. The cause of the fire is under investigation.
The blaze scorched the facade of a neighboring building and damaged a church. In all, five buildings nearby were evacuated. The fire is sure to put a spotlight on occupations of other abandoned buildings in Brazil's biggest city. The occupations are often led by highly organized fair-housing groups that run the dwellings like regular apartment buildings, with doormen and residents paying monthly fees. Others are less formal and more precarious. In a July 2017 story on the occupations, The Associated Press reported that around 350 families were living in the former police headquarters.
Local media said Tuesday that between 50 and 150 were currently living there, underscoring the sometimes fluid nature of such makeshift dwellings. Mayor Bruno Covas ordered civil defense authorities to evaluate the approximately 70 other occupied buildings in the city.
"It's a building that didn't have the most minimal conditions to live in," Sao Paulo state Gov. Marcio Franca, who visited the site, told news site UOL. "The occupation should never have been allowed," he added. Several families who fled the burning building set up camp outside a nearby church, where neighbors and local businesses were dropping off supplies such as bread, milk and bottled water. Some brought used clothing and shoes.
Lohany Michely said she was asleep with her boyfriend and dog in their apartment on the third floor of the building when she began hearing people outside yell about a fire. Seeing smoke, the couple left with their dog, then watched the building collapse about 45 minutes later. "Entire families lost everything," she said. "People think that people who live in an occupation are animals. We are not animals. We are human beings." Clearing debris and accounting for people who had been inside could take days. Debris smoldered throughout the day, and firefighters said the intense heat made the search difficult. In a video posted on their Facebook page, firefighters showed a search dog assessing an area and then turning back when the heat became too much.
The fire was in an area known as "Centro," which is Sao Paulo's historic downtown. It began emptying out in the 1970s and 1980s after several fires, and another business district developed. These days, the neighborhood is on the cusp of a comeback and is equal parts dilapidated and edgy. Several city administrations have led campaigns aimed at beautifying and redeveloping the area, which now hosts most of the city's homeless and has numerous blocks occupied by crack addicts. Junior Rocha, who is a coordinator for an organization that runs three downtown occupations, said the group takes precautions to avoid tragedies, but the buildings are old and difficult to maintain.
The authorities "are going to use this as a way to pressure our movements to leave these buildings," he said. "The state is acting as if us, the occupiers, us, from the movements, are responsible for this. We're not responsible, the system is at fault." Dayana da Silva is worried about her future. She said she lost everything in the fire, including papers documenting her 8-year-old son's respiratory illness and she is worried for his care. "We already lived in a shelter," da Silva said, sitting in a plaza packed with newly homeless families. "I'm not going back there."