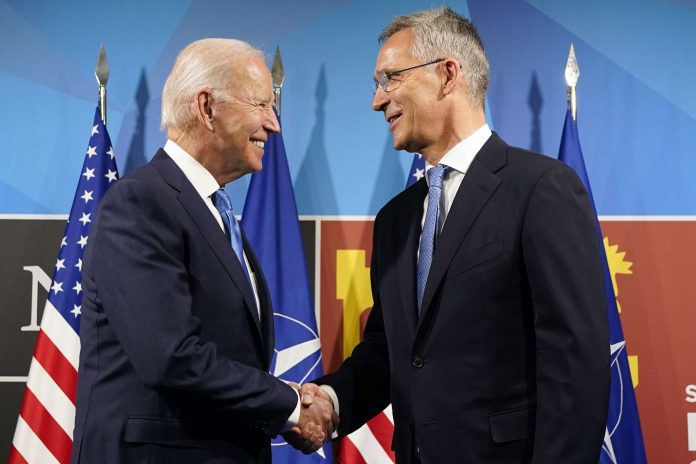 By AAMER MADHANI
Associated Press
WASHINGTON (AP) — President Joe Biden will welcome outgoing NATO Secretary-General Jens Stoltenberg to the White House for talks on Tuesday as the competition to find his successor to lead the military alliance heats up.
Stoltenberg, who has led the NATO since 2014 and has had his tenure extended three times, said earlier this year he would move on when his current term expires at the end of September. The jockeying to replace him is intensifying as leaders of the 31-member military alliance are set to meet next month for their annual summit in Vilnius, Lithuania. Stoltenberg is in the midst of a tour of NATO capitals to meet with leaders ahead of the summit.
The meeting with Biden originally was scheduled for Monday, but the White House announced it was being rescheduled for Tuesday because the president underwent an unexpected root canal procedure after experiencing dental pain. White House officials said that Tuesday's agenda would be wide-ranging but that there would be a particular focus on the war in Ukraine.
White House National Security Council spokesman John Kirby would not comment on whether Biden would ask Stoltenberg to extend again, but praised the former Norwegian prime minister for doing a "superb job" heading the alliance.
Last week, British Prime Minister Rishi Sunak made the case for U.K. Defense Minister Ben Wallace directly to Biden. The Democratic president also met with Danish Prime Minister Mette Frederiksen, another potential contender.
Asked about the NATO job at a news conference with Sunak by his side, Biden called Wallace "very qualified" but noted that the conversation among NATO leaders to find a "consensus" pick to replace Stoltenberg was ongoing. Biden's opinion carries enormous weight as the U.S. spends more than any other member in the alliance on defense.
Frederiksen sought to play down her candidacy after she met with Biden last week. She declined to say whether she discussed the coming vacancy with him, telling reporters that she did not want to go "further in these speculations about NATO." The alliance has never had a female secretary-general.
A British government official, who was not authorized to comment publicly and spoke on the condition of anonymity, said ahead of Sunak's visit that the British leader wants to be sure the next secretary general "carries on Stoltenberg's good work of modernization but also understands the importance of defense spending at this critical time."
Denmark has lagged behind NATO's target for members to spend 2% of gross domestic product on military budgets by 2030. But the centrist government announced late last month that it would look to invest 143 billion kroner ($20.6 billion) in the country's defense over the next decade, citing a "serious threat picture."
At Monday's White House briefing, Kirby did not directly answer whether Biden could support someone from a country lagging on the defense spending benchmark.
"The President believes that whoever is the secretary-general of NATO should be an individual who the entire alliance can get behind and lead the alliance into the future because there's a transformative future ahead for the alliance," Kirby said. "Whenever this war ends, however it ends, NATO is going to be different."
Biden and Stoltenberg are also expected to discuss Russia's ongoing invasion of Ukraine and efforts to persuade fellow NATO member Turkey to back off blocking Sweden from joining the military alliance.
Sweden and Finland, both historically unaligned militarily, jointly sought NATO membership after being rattled by Russia's invasion of Ukraine. Turkey initially blocked both countries from joining the alliance before agreeing to membership for Finland while continuing to object to Sweden.
In public comments since Turkish President Recep Tayyip Erdogan was reelected last month, Biden has spoken with a measure of certainty that Sweden will soon join the alliance.
"It will happen. I promise you," Biden said of Sweden's NAT0 ascension earlier this month.
Stoltenberg and Secretary of State Antony Blinken have expressed hope that Sweden will be taken into the NATO fold by the time allied leaders meet in Lithuania on July 11-12.