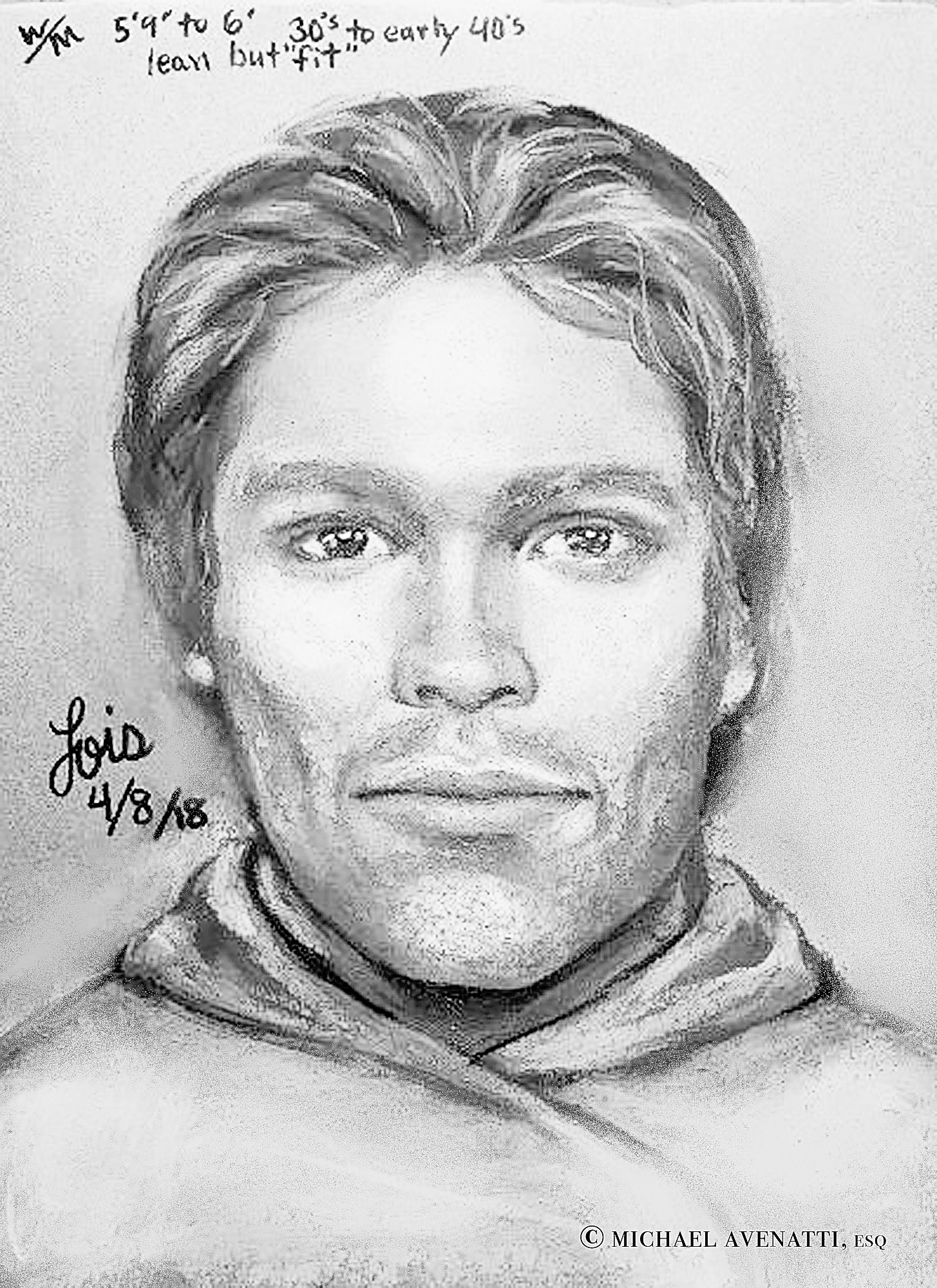 By CATHERINE LUCEY
Associated Press
WASHINGTON (AP) — Stormy Daniels injected fresh mystery into the sensational story of the president, the fixer and the porn star on Tuesday, releasing an artist's sketch of the man she says threatened her in a Las Vegas parking lot to stay quiet about her sexual tryst with Donald Trump. After teasing the reveal for more than a week, the adult film actress appeared on ABC's "The View" to unveil an image of the man she says menaced her and her young daughter and warned her in 2011 to keep quiet about a 2006 encounter with Trump. Upping the stakes, her attorney, Michael Avenatti, pledged a $100,000 reward for information leading to the man's identification.
While the mad internet scramble to identify the man added to the circus atmosphere surrounding the president's legal troubles, the development also kept a spotlight on what Trump views as an increasingly serious threat: the federal investigation into his longtime image protector. Daniels says that Trump's personal attorney, Michael Cohen, paid her $130,000 just before the 2016 election to keep quiet about her relationship with the GOP nominee. The case took on new significance last week when FBI agents raided Cohen's office, looking for information on topics including the payment to Daniels. Both Daniels and Cohen were in court in New York City on Monday, as a U.S. District judge heard debate over what should happen to those records.
On Tuesday, Daniels, whose legal name is Stephanie Clifford, said she was speaking out because she was "done being bullied." Recalling the alleged threat, Daniels said she and her daughter were approached in a parking lot by a man who said: "Oh it's a beautiful little girl, would be a shame if something happened to her mom. Forget about this story, leave Mr. Trump alone." Daniels said she did not report the threat at the time because she would have had to reveal the alleged affair and she was afraid. "I didn't want everyone to know. I didn't want my family to find out that way. I didn't want my life to turn upside down," she said.
The artist's sketch depicts a white male in his 30s or 40s and carries a description of him as "lean but fit." The image quickly prompted a flurry of online speculation about the person's identity, with Twitter commentators wildly comparing the image to a number of celebrities, including football player Tom Brady, musician Jon Bon Jovi and actor Willem Dafoe. Even some Trump allies got in on the action. After a Twitter posting showed the sketch next to a photo of short-lived White House communications director Anthony Scaramucci, the always camera-ready figure known as "the Mooch" joked that he wasn't tall enough to match the description: "I thought the description said he was 6′ 2″! I am all good."
Daniels insisted she remembered the years-prior parking lot encounter vividly, in part because the man was "sort of handsome." Building suspense, Avenatti recently tweeted a photo he said showed Daniels sitting with a sketch artist. He set up a suitably pugnacious email address to receive information from tipsters — idthethug@gmail.com — and said later Tuesday that he had already received hundreds of tips. After Daniels first alleged on CBS several weeks ago that she had been threatened, a lawyer for Cohen demanded that she publicly apologize to his client for suggesting Cohen was involved. Daniels responded by filing a revised federal lawsuit accusing Cohen of defamation. The White House has also said Trump does not believe any of Daniels' claims.
An attorney for Cohen did not immediately respond to a request for comment Tuesday. Daniels, currently on a national strip-club tour, said she has gained fame from her alleged encounter with Trump but "this isn't what I want to be known for." She also said she did not name her tour "Make America Horny Again" — a play on Trump's "Make America Great Again" slogan. She called it "cheesy" and said the idea came from one of the clubs where she made an appearance.
While she's getting more attention, Daniels said, much of the experience has been "downright scary," adding that her daughter needs a tutor and she has engaged bodyguards. Trump answered questions about Daniels for the first time recently, saying he had no knowledge of the payment made by Cohen and didn't know where Cohen had gotten the money. The White House has consistently said Trump denies the affair. Asked about Trump's denials, Daniels was unmoved. "I work in the adult business," she said. "And I'm a better actress than he is."