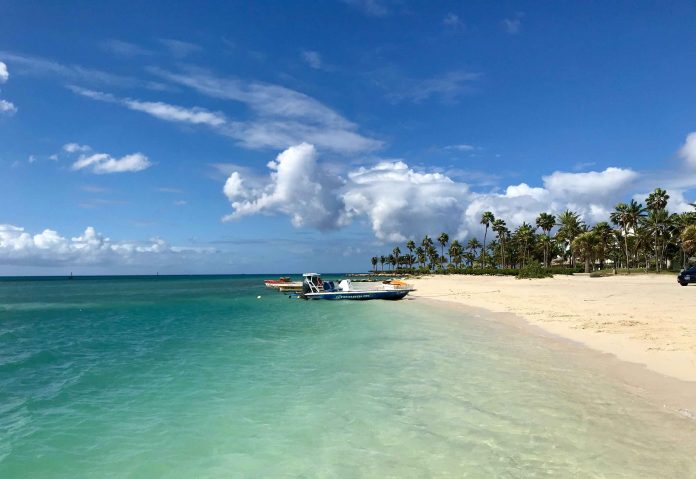 By Benjamin Romero
ORANJESTAD — From December 28th, 2020 up till January 3rd, 2021 Aruba welcomed a total of 12.700 visitors. This last figure helped the increase in numbers for the month of December 2020 which exceeded the expectation of the Aruba Tourism Authority (A.T.A.), after experiencing an extremely challenging year. The impact of the Covid-19 affected our economic sector immensely.
CEO of A.T.A., Ronella Tjin Asjoe-Croes qualified 2020 as a 'unique year'. A.T.A. even has a special slogan naming 2020 as an 'unforgettable year'. The word 'unforgettable' is the perfect word to describe 2020 due to so many reasons. An unforeseen turn of event due to the Covid-19 crisis. But 'unforgettable' had also its positive side in which A.T.A. had to look into new ways to improvise their way of doing business. Initiatives were taken, the organization started collaborations with other organizations such as the medical sector and is taking part in the national Crisis Team, where difficult and unique decisions were taken for the entire community. A.T.A. also played a significant role in guiding and providing information to the tourism sector. A very tough task in which the reality of things needed to be informed without losing the motivation to continue working for our economic pillar. "We played different roles", Tjin Asjoe-Croes says.
In 2020 A.T.A. formed a special commission together with the private sector and the airport in which they worked and brainstormed on a recovery plan for the tourism sector and they prepared for the reopening of the borders back in June 2020. They also introduced the immigration platform online as well as the Aruba Health and Happiness Code program to ensure our travelers a safe and healthy destination.
A.T.A. also was responsible to maintain and execute all necessary work internationally for our tourism industry. Tjin Asjoe-Croes explains that in the past A.T.A. already adapted to certain situations that occur ad hoc and they have the experience to know what the consumer is asking for.
December 2020
Looking back at the number of visitors we had during the end of the year 2020 to 2021 we can say that the tourism started off on the right foot. Tjin Asjoe-Croes states that the amount of visitors started to increase since October. September was the worst month in which we had a drastic decrease in visitors due to the high increase in active Covid-19 cases on the island.
For December 2020, ATA was expecting a total of 37.000 visitors, but after receiving the last figures they can inform that we received almost 45.000 visitors during this month which exceeds their expectation.
Aruba is closing its tourism figures for 2020 with a 68% to 70% decrease compared to 2019. Such decrease is also what other key destinations in the region are experiencing. Another good sign according to A.T.A.'s CEO is that the result of 2020 is in line with what the World Tourism Organization (WTO) predicted. The organization prognoses a 70% decrease in 2020 compared to 2019. "We are in line with the tendency of the expected grade of recovery", says since Tjin Asjoe-Croes.
Concerns
For the last couple of days we have been seeing a rise again in active cases of Covid-19 on the island in which the Crisis Team already has taken measurements. A.T.A. considers this very important and much needed to protect our health and also to prevent this situation to impact the current high season. January 2021 is looking to be strong, but the increase in active cases is a point of concern which can highly impact our tourism. Things also got complicated internationally during the last month of 2020, where there was a high increase of Covid-19 cases at our markets of the Netherlands and the US.
Tjin Asjoe-Croes interpreted the touristic development as still positive since many people are looking to travel and choose Aruba as their vacation destination.