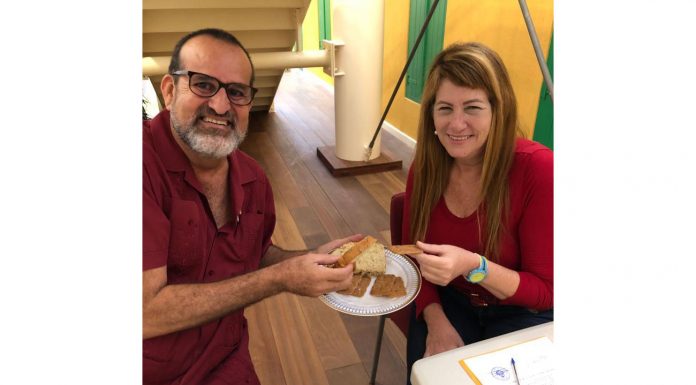 Last Wednesday, contemporary artist Osaira Muyale and the National Archeological Museum Aruba (MANA) signed an agreement for an undefined time period, so that the artwork "Entre Aruba y Hulanda mi a haya Paraiso", which translates as "Between Aruba and the Netherlands I found paradise, can be exhibited in the museum.
Muyale is also the creator of the majestic blue horses found in the city center.
The sleeping horse, broken in two, of which one half has the shield of Aruba and the other half the shield of the Netherlands, captures our attention to the cultural rupture that took place during the colonization process.
The triangular commerce route from the 16th to the 18th centuries between Europe, Africa and America (particularly the Caribbean) formed an economic enterprise. At the same time this interfered and broke the way of life and culture of people involved in displacement and slavery. However, it is through the division sand reconnections that the new identities and cultures of today were formed.
We are still dealing with the consequences of colonization, and Muyale's artwork accentuates the hybrid aspect of ex-colonies. At the same time it illustrates the cultural disconnection and the lack of understanding that is still going on today. Colonies of the past and political structures of the present are still connected and separated by the immense blue sea.
In her artwork, personal narratives as a child of mixed parents (Dutch and Aruban) and the national narratives, like the Apart Status of Aruba in the Kingdom of the Netherlands are explored and they scream for dialogue, art as the symbol of the effort of a Caribbean nation to understand its own history and to have its own voice.
The formalization of the agreement and cooperation between Osaira Muyale and MANA was celebrated symbolically. Together they drank coffee with sweet bread and speculaas cookies. They explored possibilities for the artist and MANA to continue working together through research, education and art. One more seed was planted, and together they will continue working for the cultural development of Aruba.