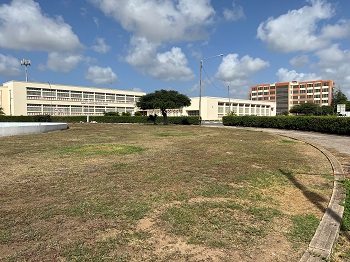 On August 17, 2022, the Public Works Department (DOW) started the project to beautify the Plasa di Cultura roundabout.
The execution of this project is in phases.
Phase 1 includes the following activities:
Removal of the grass;
Raising of the existing wall around the fountain with two more blocks;
Replenish and fertilize the soil;
Preserve existing Watapana, Guyaba, and Fofoti hedge trees;
Moving the remaining plants and replanting them in the green area of ​​the DOW;
Curb maintenance and relocation of water meter box;
Laying a new foundation for the flagpole.
The first phase will take place in August and should be ready by December 2022.
Phase 2 includes the construction of a new irrigation system, including a pump, electrical installation, and the laying of new pavement clinkers. Phase 2 will start in 2023.
Phase 3 includes the following activities:
Plant some local plants but also popular plants that we often encounter in the garden;
Installation of permanent decorative lighting;
Completion of the irrigation system installation.;
Installing a new flagpole;
Pruning the existing Fofoti tree for a better view of the embellishment.
Phase 3 is planned for 2023/2024. This project intends to plant colorful local plants around the fountain, while inside will contain protected plants. The DOW consulted the 'Ban Lanta y Planta' foundation for the plants' selection.
The fourth phase entails the construction of structures around the roundabout. This phase will start in 2024. The artworks should express cultural elements such as our language, music, customs/traditions, history, etc.
The first and second phases are more about preparing the roundabout for the embellishment later, so much of this embellishment won't be visible yet. However, it will be visible in phases 3 and 4.