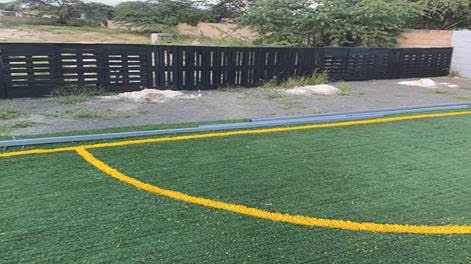 Two successful island organizations banded together to create a sporting venue for the benefit of the local community, namely ATSA and ASA.
The Aruba Soccer Academy, ASA, founded in March 2016, provides expert support to kids with a passion for soccer, ages 4 to 15.
The Aruba Timeshare Association, ATSA, is the legal entity representing the special interests of timeshare within the island's tourism sector. The organization picks an annual essential and relevant cause worthy of supporting, and makes a donation toward one of its specific needs. ASA recently invested in a mini soccer field for its members. The mini pitch is ideal for training in smaller groups, which allows ASA to offer more variety and options for when stadiums are closed.  ASA regularly organizes local soccer camps during vacations throughout the year, and welcomes international visitors. As it celebrates its fifth anniversary, the training academy boasts more than 5,000 Facebook followers.
"We believe it's important to contribute to our community, and this project promoting good sportsmanship among kids, is pivotal to the well-balance development of youth here.  ATSA picked the Aruba Soccer Academy foundation as recipient of a donation this year, for their project, to help further build the mini soccer field. Besides improved overall sportsmanship, players train together, and then play each other in opposing teams in competition, nurturing tolerance and understanding. "
ASA's program relies on non-club based soccer training with professional coaches on weekdays in different districts on the island.  ASA hopes to encourage youngsters to enjoy the game, while in a safe and friendly learning environment where they can hone their skill and tactics.
ATSA established in 1994, currently counts the active membership of the majority of timeshare properties in Aruba, as well as select condominium co-op associations. The association works on a local level, as a supporting member of AHATA, the Aruba Hotel and Tourism Association, and with other local organizations and Government entities. On a regional level, where Aruba continues to receive recognition as a model timeshare destination, ATSA has professional ties with CHA, the Caribbean Hotel Association and also benefits from continuous collaboration with ARDA, the American Resort Development Association.
For more info on ASA you can contact David Abdul: davidabdul89@gmail.com.